Health benefits of fenugreek seeds or methi dana (Indian name) are immense. Not only do fenugreek seeds taste good, but they have several health benefits. From diabetics to heart patients, almost everyone is being advised to include the bitter fenugreek seeds in their diets. Fenugreek (scientific name Trigonella foenum-graecum)  is a plant native to Western Asia and the Mediterranean. Fenugreek leaves and seeds are used for cooking and medicines.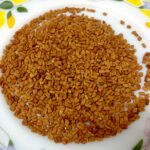 Fenugreek seeds, also known as methi dana in India, are a common ingredient. Their use is quite prevalent in Indian, Turkish, Persian, Eritrean, Ethiopian, and Egyptian cuisines.
Apparently, in the 1st century AD, the Romans flavoured wine with fenugreek. The use of fenugreek /methi in India is probably older than history itself; the leaves and the seeds of the herb are well entrenched in Indian cuisines from all parts of the country. Let's look at the significant health benefits of fenugreek seeds or methi dana
HEALTH BENEFITS OF FENUGREEK SEEDS OR METHI DANA
It has soluble fibre which helps in reducing cholesterol especially LDL, controls blood sugar levels and helps lose weight by suppressing appetite if taken soaked overnight on empty stomach in the morning. Besides that, it prevents colon cancer and helps counter acid reflux or heartburns. Following is the list of other significant health benefits of fenugreek seeds.
Weight Loss – Drinking fenugreek water on an empty stomach boosts the metabolism. Its consumption leads to the production of heat, which helps to lose weight. Also, consuming fenugreek water reduces appetite, which helps reduce weight certainly.
Promotes better digestion – The fenugreek water is an antacid. By consuming it daily, the digestive system is strengthened and problems like bloating can be avoided easily. Anti-inflammatory properties present in fenugreek helps in relaxing the stomach.
Diabetes Control – Fenugreek encourages the slower absorption of sugars and also stimulates insulin. Diabetics and people on the borderline of diabetes reap many benefits in drinking warm fenugreek water.
Good for Kidneys – Fenugreek water, especially when drunk warm, flush out the toxins from the body. That is why it is recommended as your wake-up elixir. It helps the kidneys to function and also reduces the risk of kidney stones.
Anti-inflammatory: Because of the anti-inflammatory properties of fenugreek, this decoction benefits sufferer from arthritis, chronic coughs, bronchitis, mouth ulcers, boils, etc.
Clears Your Sinuses – Fenugreek has properties associated with being a natural expectorant. It can make it easier for you to cough up phlegm, mucus, and all sorts of nasty stuff responsible for making your head feel like it weighs a ton.
Anti-Ageing Benefits – While fenugreek won't necessarily dip your toe in the proverbial fountain of youth, it can at the very least make it easier to look more vibrant. It's said that the high antioxidant quality that lurks within the herb's seeds can help fight the free radicals responsible for moving the ageing process forward.
Lowers blood cholesterol – Fenugreek helps to reduce cholesterol level, especially that of low-density lipoprotein (LDL). They are known to be a rich source of steroidal saponins that prevent the absorption of cholesterol and triglycerides.
Remedy for fever and sore throat – Fenugreek when taken with a teaspoon of lemon and honey can work wonders to reduce fever by nourishing the body. The soothing effect of mucilage in fenugreek also helps in relieving cough and pain from sore throat.
Helps prevent colon cancer – The fibre content (saponins, mucilage, etc.) of fenugreek binds to toxins in the food and flush them out. This, in turn, helps to protect the mucous membrane of the colon from cancer.
This is just a limited list of health benefits of fenugreek seeds or methi dana. The actual accrual is much more.
Apart from its health benefits Kasoori Methi or Dried fenugreek leaves are an important, delicious herb in Indian cooking. Here is how you can prepare kasoori methi at home using fenugreek leaves or methi patta.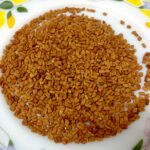 Ingredients
Fenugreek Leaves/ Methi - 1 Kilo
Sunlight (Vitamin D)
Instructions
Remove thick stems from the bundle of methi leaves or fenugreek leaves.
Put the leaves in a colander & wash them well to remove any dirt or impurities under running water.
Once clean, drain them and roughly chop them small.
Spread them over a clean cloth or a bedsheet.
Cover it with another sheet or even muslin cloth if available.
Place it under the sun and let them dry for a couple of days.
Once dried, crush them in your palm. They should powder easily.
Store them in an airtight jar and use in your dishes.
Notes
The recipe calories & fat are for 100 grams of kasoori methi.
STAY CONNECTED
If you like this article, you can let us know in the comments below or on social media using #gosumitup and tag me @gosumitup. I am always happy to read your feedback and if you liked the dish or if you made the dish. 🙂
Better still, take a picture and post it on Instagram and tag us as #gosumitup
Connect direct – You can also connect with me directly on my Instagram and Facebook or on Pinterest.
And, keep visiting us for more of such awesomeness. Do bookmark gosumitup.com into your web browser now or simply subscribe to our browser notifications.