Essential Kitchen Cookware
These are some of the kitchen cookware essentials I use around my kitchen.
Cookware – Not that everything in the kitchen need be top-notch and terribly expensive, as some items are worth splurging on while others can easily be saved on.
Good cookware essentials are definitely worth investing in as in many cases it will last a lifetime and work out to be more economical than spending money on cheap, inferior pieces that constantly need replacing.
Cookware essentials are important but you'll never get to the fun cooking part if your preparation is time consuming & tedious. Below are the cooking & preparation tools don't cost a lot to own and will transform your cooking experience.
Cookware Kitchen Essentials
Obviously! You don't need any of these cookware kitchen essentials & tools to cook well.
But I get a lot of questions about my cookware essentials list, so I have put together this brief kit for you to run your kitchen as an expert.
Cooking Vessels | Cookware
Kitchen Cookware Essentials - Best Vessels for Cooking | Cooking Vessels I Like
Indus Valley Cast Iron Kadai (2.5L)
Cast Iron (2.5L)
Buy in India | Buy in USA
Cast Iron Kadai – The Indus Valley Cast Iron products last for a lifetime. They are also, pre-seasoned and ready-to-use.
The utensils you use matters as much as the ingredients. You deserve only clean, natural and non-toxic cookware.
Transparent Electric Kettle (1.7L)
Glass (1.7L)
Buy in India | Buy in USA
Kettle – Borosilicate glass body with concealed heating element provides 360 degree rotation of body along with detachable power base.
The unique thing about this is that it protects against overheating and boil drying.
Induction Bottom Multi Kadai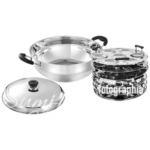 Stainless Steel (6 Plates) Idli Maker | Amazon Brand Solimo
Buy in India | Buy in USA
Idli Steamer – Idli is one of the most popular breakfasts in South India. In an idli steamer it is very easy to use to make idlis within a short span of time.
The idlis thus made are very soft and remains hot for a longer period of time compared with other conventional utensils.
Bamboo (8.5 Inch 2 tier Basket)
Buy in India | Buy in USA
Bamboo Steamer – This Bamboo Steamer is designed using 100% bamboo giving you a natural option to cooking.
It is not only reusable but also very versatile allowing you to use your existing pans you already have in your kitchen for steaming.
Prestige Nakshatra Pressure Cooker
Stainless Steel Pressure Cooker (5L) Silver
Buy in India | Buy in USA
Stainless Steel Pressure Cooker – Say goodbye to long hours in the kitchen!
This stainless steel pressure cookers are designed to reduce cooking time so that even grandma's slow-cook recipes get ready in a few whistles.
Their unique, thick base transfers heat uniformly and more quickly than regular cookers. This effectively reduces cooking time and saves energy too.
Hawkins Futura Pressure Cooker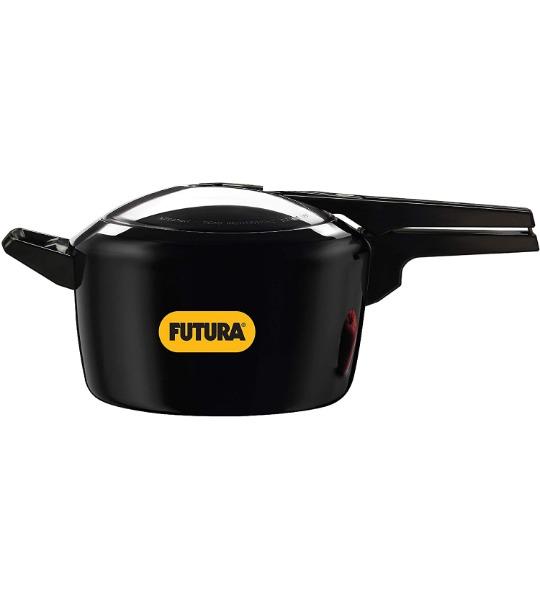 Hard Anodised Pressure Cooker (5L) Black
Buy in India | Buy in USA
Hard Anodised Pressure Cooker – These have durable handles as well as an anti bulge induction base. Bring home a cooker that helps you keep the kitchen clean and safe.
It comes with a unique lid that contains any spillage that might occur during the course of cooking and prevents the messy liquid from dripping down.
You can save a lot of time with the optimised wide base feature that ensures this cooker cooks 15% faster.
Cuisinart CI22-24CR Chef's Classic
Cast Iron (10 inch) | Enameled Round Fry Pan
Buy in India | Buy in USA
This cast iron frying pan or a skillet is ideal for sauteing, searing, pan-frying, baking, broiling, roasting, and more. It comes pre-seasoned and ready to use.
It has a heavy-duty cast-iron construction for optimal heat retention and thorough, even heating. The long handle and opposite helper handle allow a steady, secure hold.
CUISINART Stainless Steel Frying Pan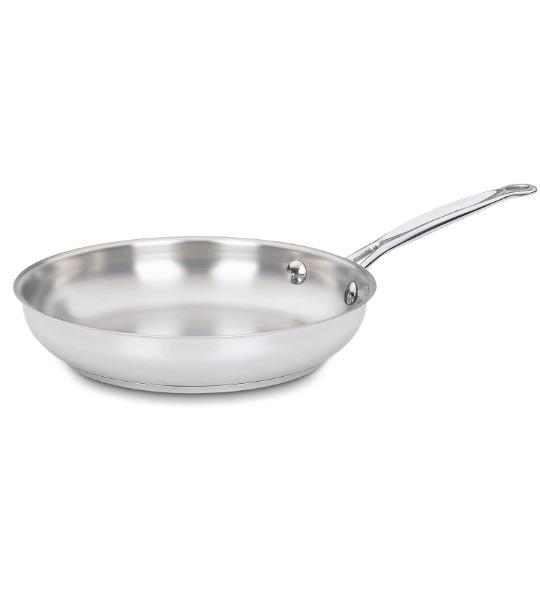 Stainless Steel (10 Inch)
Buy in India | Buy in USA
CUISINART Stainless Steel Frying Pan – Can be used for frying, browning and tossing small pieces of food.. It has sloped sides and wide flat bottom maximize cooking surface. It is Aluminum encapsulated.
It has cool-grip riveted stick handle for safe and comfortable handling with a tapered rim for drip-free pouring. Being stove top, oven and broiler safe makes it a very user friendly tool.
Hawkins Futura Cook-n-Serve
Hard Anodised Cook-n-Serve Bowl, 4 Litres, Black
Buy in India | Buy in USA
Cook-n-Serve Bowls – Futura Hard Anodised Cook-n-Serve Bowls are ideal for cooking a wide range of Indian and Western dishes.
The 4 mm thick base and sides of these Cook-n-Serve Bowls spread heat evenly and retain warmth for a long time making them excellent utensils for both cooking and serving.
Cooking and Serving in the same bowl makes good sense the food stays hot longer and you have less to clean up and less for storage.
Cuisinart Stockpot with Cover
Classic Stainless Steel 12-Quart Stockpot with Cover
Buy in India | Buy in USA
Classic Stainless Steel 12-Quart Stockpot – Made with polished 18/10 stainless steel with an aluminum disc layered in the bottom.
Aluminum disc layered bottom provides even heat distribution and prevents hot spots. Stainless steel lid keeps in heat and moisture.
Durable stainless steel riveted handles allow for safety. it has a large size for multipurpose function: canning, jarring, and stewing;
Futura Induction Sauce Pan
Futura Induction Base Hard Anodised Sauce Pan with Steel Lid (2L Black)
Buy in India | Buy in USA
Futura Induction Base Hard Anodised Sauce Pan – Futura Hard Anodised Induction Compatible Saucepan is extra thick and durable. The black metal spreads heat quickly. It is not spoilt by high heat.
Metal ladles can be used. It is non-toxic, non-staining and non-reactive with foods. It stays looking new for years. It has sturdy, stay-cool handles.
Heat source – domestic gas, electric, halogen, ceramic and induction cooktops.
AmazonBasics Cast Iron Skillet Pan
AmazonBasics Pre-Seasoned 10.25 Inch Cast Iron Skillet Pan, 2.18 Kgs
Buy in India | Buy in USA
AmazonBasics Pre-Seasoned 10.25 Inch Cast Iron Skillet Pan – A wonderful addition to any cookware collection.
This AmazonBasics Pre-Seasoned Cast Iron Skillet, 10.25 Inch can be used for sautéing, searing, pan-frying, baking, broiling, roasting, and more.
The skillet's round shape, flat base, and slightly flared side edges work well for variety of everyday favorites or newly inspired recipes.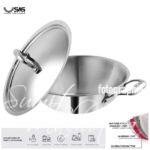 Vinod Platinum Triply Stainless Steel Kadai with Lid- 24 cm, 2.5 Ltr (Induction Friendly)

Buy in India | Buy in USA
Vinod Platinum Triply Stainless Steel Kadai – The Kadai is a staple utensil in Indian kitchens for centuries. Mainly used to cook vegetables, this Kadai brings the best to your kitchen!
The Integrated layer of aluminium right through, even at the bottom helps in faster cooking and in efficient heat retention that helps to keep food warm for a long time.
Its Triple layer with the superior Food Grade 18/8 stainless and SS 430 magnetic stainless steel that supports Induction cooking.
Tandoor Duo Aluminium Gas Oven
Wonderchef Tandoor Duo Aluminium Gas Oven, Red and Black
Buy in India | Buy in USA
Wonderchef Sanjeev Kapoor Tandoor Duo Aluminium Gas Oven – Wonderchef Gas Oven Tandoor is a combination of Oven and Tandoor that works on your normal Gas Stove in your very own kitchen.
You can make grilled and tandoori veg. or non-veg. kababs, tikkas and roasts, tandoori rotis, naans and parathas. You can also bake cakes and other goodies too!
Just an incredible range of cooking is now possible with this dream appliance that everyone loves to have in their kitchen.
Bialetti Moka Express 6-Cup Stovetop Espresso Maker
Buy in India | Buy in USA
Bialetti Moka Express – The Original Bialetti Moka Express is a Moka pot that may also be called a coffee percolator.  It makes fresh coffee like no one else, sourced directly from Italy.
It uses ground coffee and does not work with instant coffee though works with the South Indian filter coffee.
If you are a coffee aficionado, it is a perfect equipment for your house and a great lifestyle fit for your kitchen.
Bialetti Brikka Aluminium Stovetop Espresso Maker
Buy in India | Buy in USA
Bialetti Brikka Aluminium Stovetop Espresso Maker – It is the only stovetop coffee maker capable of dispensing espresso cream.
It's new silicone membrane technology, combined with the characteristics of the Moka, ensures a result in cup similar to the espresso of the bar: full-bodied, intense and with persistent cream.
It is made with high quality polished aluminum in the classic Bialetti octagon shape.
With a wide range of cookware available in the market, it often gets confusing to differentiate one product from its competitor or to choose one that best meets your requirements.
Whether you need a saucepan, cast iron frying pan, kadai (with or without lids), you have them all in this collection I have put together for you.
These are classy and modern & add a stylish dimension to your kitchen while saving a lot of your time and energy. To top it all, they have all been personally used and provide great performance.
It gets better if you have first hand feedback readily available to solve the big question of what to invest it.


If you like this article, you can let us know in the comments below or on social media using #gosumitup and tag @gosumitup on Facebook.
I am always happy to read your feedback and if you liked the dish or if you made the dish. :)
Better still, take a picture and post it on Instagram and tag it as #gosumitup
Connect direct – You can also connect with me directly on my Instagram and Facebook or on Pinterest.
And, keep visiting us for more of such awesomeness. Do bookmark gosumitup.com into your web browser now or simply subscribe to our browser notifications.
Thank you for visiting GoSumItUp! I hope you enjoy the reviews & recipes found at www.gosumitup.com.
This page consists of disclaimers regarding the recipe, its outcome, nutrition, and food handling safety decisions.
The recipes have been cooked and compiled by me for general information only and should not be used to diagnose or treat any medical condition/s.
This information is not intended to diagnose, treat, cure, or prevent any disease as well.
GoSumItUp.com has used all reasonable care in compiling the information but offers no warranty as to its accuracy or its use in any possible form.
Consult a doctor or other health care professional for diagnosis and treatment of any medical condition/s. For more details please refer to our disclosure policy.
GoSumItUp is a personal blog written and edited personally by me. All opinions expressed are my own which are honest and have not been influenced by any means.
My reviews are dependent on the visits at the time and revisits will be reviewed again as they may have a different experience or the same.
I am not a food critic nor do I consider myself as one, this platform allows me to write and review my own personal dining experiences, may they be good or bad, delicious or not, all are honest and truthful opinions.
Suppose you disagree or agree with me at any point or do not receive the same experiences as I have. In that case, I do not hold any responsibility as everyone will have their own experiences that they will encounter themselves.
I pay for all meals. However, if any meals or product has been sponsored or compensated or if I was an invited guest, it will be clearly disclosed at the end of each review.
All images on this blog are my own unless stated otherwise. If you wish to use any of my photography for any purposes, please do not use it without any written permission and give credit and/or link back to the website.
If you would like to send a product or any sponsors/endorsements, it may or may not be published and reviewed on the website.
If you wish to send any products or invitations for any media, press or collaborations etc., consider if it is something related to the content of the website and if you see fit, please visit the Contact page for contact details.
Thank You.