Coffee Cure for Coronavirus – New preliminary research may have uncovered why coffee is linked to an impressive array of health benefits. It could have everything to do with our most delicious nectar's role in flipping the light switch on certain genes. However, it doesn't mean a coffee cure for coronavirus is a truth. Read on below.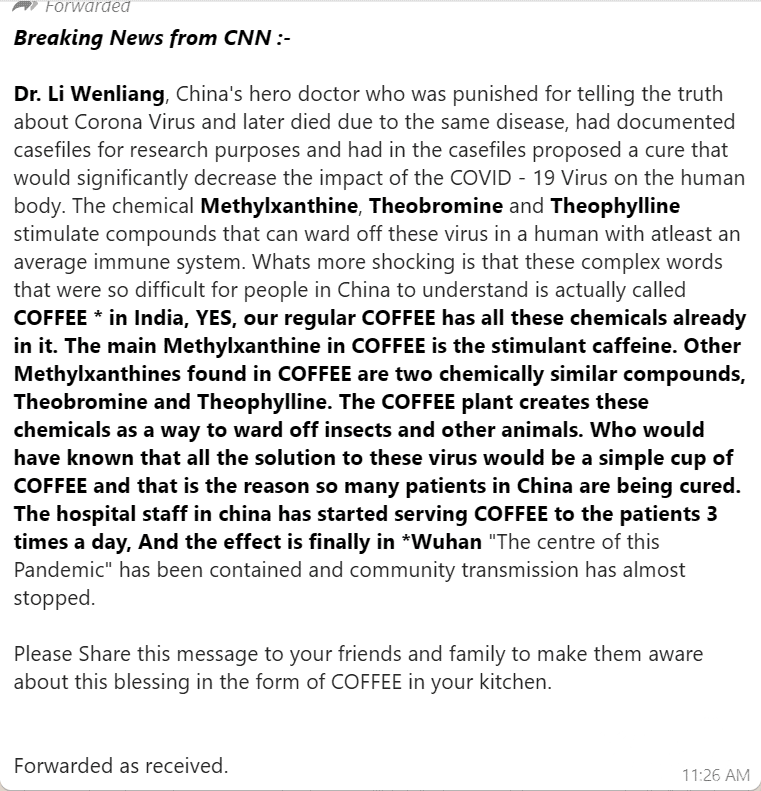 Regular coffee can be a coffee cure for coronavirus. A Whatsapp forward came up claiming that this has been established by Dr Li Wenliang.
Coffee cure for coronavirus prevention is a possibility since coffee contains chemicals that can decrease the impact of COVID-19 on an individual.
It also claims that the hospital staff in China has started serving coffee to the patients three times a day. The chemicals that are supposedly present in coffee and reduce the impact of COVID-19 are Methylxanthine, Theobromine and Theophylline.
They are claimed to stimulate compounds that ultimately ward off the virus. The message reads as follows:
Breaking News from CNN:-

Dr. Li Wenliang, China's hero doctor who was punished for telling the truth about Corona Virus and later died due to the same disease, had documented casefiles for research purposes and had in the casefiles proposed a cure that would significantly decrease the impact of the COVID – 19 Virus on the human body.

The chemical Methylxanthine, Theobromine and Theophylline stimulate compounds that can ward off these virus in a human with atleast an average immune system.

Whats more shocking is that these complex words that were so difficult for people in China to understand is actually called COFFEE * in India, YES, our regular COFFEE has all these chemicals already in it.

The main Methylxanthine in COFFEE is the stimulant caffeine. Other Methylxanthines found in COFFEE are two chemically similar compounds, Theobromine and Theophylline. The COFFEE plant creates these chemicals as a way to ward off insects and other animals.

Who would have known that all the solution to these virus would be a simple cup of COFFEE and that is the reason so many patients in China are being cured.

The hospital staff in china has started serving COFFEE to the patients 3 times a day, And the effect is finally in *Wuhan "The centre of this Pandemic" has been contained and community transmission has almost stopped.
Dr Li Wenliang was an eye specialist. The CNN website also does not show any articles based on the case files by Dr Wenliang.
Thus, this rumour seems fake and misleading. Dr Li Wenliang's death was because of COVID-19, but he did not own any case files that claim coffee to be a COVID-19 cure.
This message is very similar to another false WhatsApp forward claiming that Dr Li Wenliang had suggested tea for COVID-19.
When you compare the two messages, it is clearly evident that the message is just the same with the word Tea replaced by Coffee throughout. The tea claim was also proven to be false.
It's true that methylxanthines are found in tea, as well as in coffee and chocolate.
But there's no evidence Dr Li Wenliang was researching their effect – he was an eye specialist, rather than an expert on viruses – nor that hospitals in China were treating Covid-19 by giving patients tea.
False and misleading information has been spreading on Indian news channels and social media posts as the authorities attempt to control coronavirus with strict restrictions on movement throughout the country. This is also one of them.
I skimmed the internet for evidence that coffee cure for coronavirus works. However, nothing of substance was found establishing coffee cure for coronavirus. There are many myths about food. WHO has also issued an explanative advisory regarding the same.
To Sum It Up
This WhatsApp Forward is a "fake news"
While many people might seek out a cup of coffee or a mug of tea to help them in these difficult times, one thing a hot drink won't do is protect you from Covid-19. 
There have been many claims to the contrary circulating widely on social media and in private messaging apps – but these are simply pieces of fake health advice that are being shared.
The information contained in this article is for educational and informational purposes only and is not intended as health or medical advice. Always consult a physician or other qualified health provider regarding any questions you may have about a medical condition or health objectives.
STAY CONNECTED
If you like this article, you can let us know in the comments below or on social media using #gosumitup and tag me @gosumitup. I am always happy to read your feedback and if you liked the dish or if you made the dish. :)
Better still, take a picture and post it on Instagram and tag us as #gosumitup
Connect direct – You can also connect with me directly on my Instagram and Facebook or on Pinterest.
And, keep visiting us for more of such awesomeness. Do bookmark gosumitup.com into your web browser now or simply subscribe to our browser notifications.