Health Benefits of Ginger or Adrak | Amazing & Mighty Ginger
Ginger (Zingiber officinale Roscoe, Zingiberaceae) is one of the most commonly consumed dietary condiments in the world. Some health benefits of ginger are very significant.
Gingerol is the primary pungent ingredient that is believed to exert a variety of remarkable pharmacological and physiological activities.
Adrak or Ginger has been used for thousands of years for the treatment of numerous ailments, such as colds, nausea, arthritis, migraines, and hypertension.
Gingerol is one of the main compounds that allows such great health benefits of ginger or adrak.
Gingerly Go On With Adrak – Ginger Root Benefits
We've all experienced unrelenting nausea at some point or another. And the first antidote we think about is the mighty ginger root. And, a lot of tea lovers have their teas with some ginger steeped in it.
This is the simplest way to include the health benefits of ginger in your daily routine.
For thousands of years, Indian, Arabic, and Asian healers have prized ginger as food and medicine. This tropical plant, ginger, was effectively used to relieve nausea and vomiting caused by illness and seasickness.
This endorses the health benefits of ginger or adrak. Fascinatingly, ginger comes from the same bo­tanical family as turmeric and cardamom.
Today, research has confirmed that ginger reduces nausea and vomiting from multi­ple causes like morning sickness, postoperative upset, chemotherapy treatments, and motion sickness.
The health benefits of ginger are immense and needed every day. Read on to find out more.
Ginger & It's Spicy History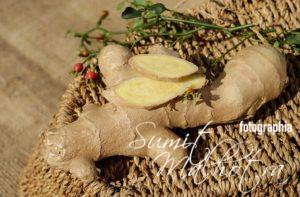 Ginger, is a culinary spice and medicinal marvel. Health benefits of ginger give the necessary nutritional robustness to our body. This versatile seasoning and a multi-faceted remedy bring about a lot of health benefits of ginger.
Indians and Chinese are believed to have produced ginger as a tonic root for over 5000 years to treat many ailments. Ginger root is now cultivated throughout the humid tropics, with India being the largest producer.
Ginger was used as a flavouring agent long before history was formally recorded. It was an exceedingly important article of trade and was exported from India to the Roman Empire over 2000 years ago, where it was especially valued for its medicinal properties.
Because of the health benefits of ginger, it continues to be a highly sought after commodity in Europe even after the fall of the Roman Empire, with Arab merchants controlling the trade in ginger and other spices for centuries.
In the thirteenth and fourteenth centuries, the value of a pound of the ginger root was equivalent to the cost of a sheep. By medieval times, it was being imported in preserved form to be used in sweets.
Queen Elizabeth I of England is credited with the invention of the gingerbread man, which became a popular Christmas treat.
Forms, Aroma & Taste – Adrak or Ginger Root Benefits
Adrak or ginger root is used in numerous forms, including fresh, dried, pickled, preserved, crystallised, candied, and powdered or ground. The flavour is somewhat peppery and slightly sweet, with a strong and spicy aroma. And, ginger benefits are immense.
Health Benefits of Ginger
It's an anti-inflammatory – Ginger contains antioxidant-like compounds called phytonutrients that may reduce your cell damage. The ginger root can also prevent inflammation from starting by reducing cell-signalling activity. With that in mind, adding ginger to already good-for-you, nutrient-dense meals is the key to unlocking those properties.
Ginger may treat morning sickness – it has a long history of use as a sea sickness remedy, and there is some evidence that it may be as effective as prescription medication. Ginger may also relieve nausea and vomiting after surgery, and in cancer patients undergoing chemotherapy.
Ginger reduces gas and improves digestion – enzymes in ginger can help the body break up and expel this gas, providing relief from any discomfort. Ginger also appears to have beneficial effects on the enzymes trypsin and pancreatic lipase, which are important for digestion. In addition, ginger may help increase movement through the digestive tract, suggesting that it may relieve or prevent constipation.
Ginger keeps your mouth healthy – Ginger's antibacterial power may also brighten your smile. Active compounds in ginger called gingerols keep oral bacteria from growing. These bacteria are the same ones that can cause periodontal disease, a serious gum infection.
Protects against diseases – Ginger is loaded with antioxidants, compounds that prevent stress and damage to your body's DNA. They may help your body fight off chronic diseases like high blood pressure, heart disease, and diseases of the lungs, plus promote healthy ageing.
Helps your with Diabetes – Ginger may help improve your blood sugar levels and lower your risk of developing type 2 diabetes. It helps you with improved insulin sensitivity, lower triglycerides, and lower total cholesterol. A significant of many health benefits of ginger.
Reduces menstrual pains – Many women know how debilitating menstrual pain can be. There are over-the-counter pain medications dedicated to this specific pain, but ginger may also provide relief. One study found that ginger is as effective as ibuprofen in reducing the pain associated with dysmenorrhea (painful menstruation) in women.
Ginger protects your liver – Ginger is said to protect you from harmful chemicals that can hurt your liver. It also reduces the risks of your liver from ageing. There are heavy metal and drugs that get sedimented on your liver and ginger is said to wash it away. Most importantly it protects your liver from damaging and scarring.
It helps your skin – Health benefits of ginger also work for your skin. So if you are battling yourself with acne every day then you need to consume ginger every day and this will help you bid goodbye to acne. a little bit of ginger tea every day can remove those wrinkles and prevent ageing. A must-include of many health benefits of ginger.
Health benefits of ginger for hair – Ginger is also said to be good for your hair such that it prevents hair fall and dandruff. Here are some of the health benefits that ginger can do to your hair. Ginger consists of antiseptic properties that help prevent dandruff. Consuming ginger helps you sweat and when you sweat from your hair, it produces natural oils that act as antiseptics preventing dandruff.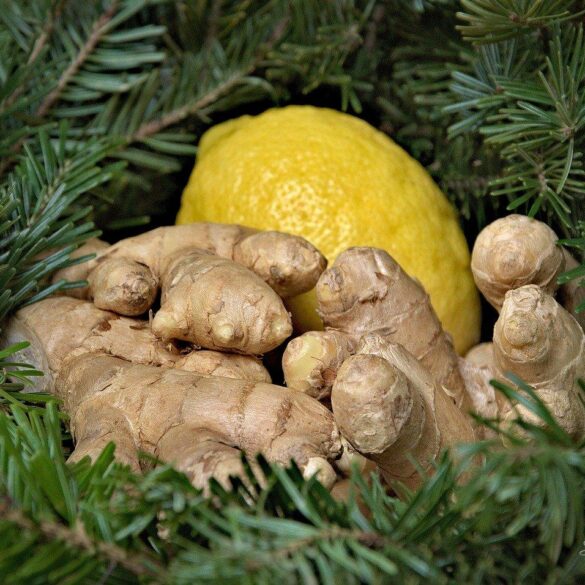 Ginger Water | Ginger Mint Tea | Minty Ginger Nausea Fighter
Ginger Water | Ginger Mint Tea | Minty Ginger Nausea Fighter - Ginger Mint Water or Minty Ginger Nausea Fighter is made by boiling fresh ginger root & mint in water, then cooling and straining the liquid. Add some honey for sweetness.
Ingredients
2

Cup

Water

2

Teaspoon

Dried peppermint

Can also use 1 tablespoon fresh mint

1

Teaspoon

Ginger

Grated fresh adrak

1

Teaspoon

Honey

Shehed
Instructions
boil 2 cups of water in a saucepan

Add 2 teaspoons of dried peppermint (or 1 tablespoon fresh)

Add 1 teaspoon grated fresh ginger.

Brew for 20 seconds only

Turn off the heat, cover, and steep for 10 minutes.

Strain out the herbs.

Stir in 1 teaspoon of honey.

Sip for a soothing experience.
Notes
If you want you can also add half a lemon to the above recipe.
To Sum It Up
Ginger can be a delicious way to flavour any anti-inflammatory diet plan. Plus, swapping ginger for added salt, sugar, or saturated fat may help you lose unwanted pounds!
Use ginger for seasoning veggie-heavy meals and snacks, not solely for health benefits of ginger.
STAY CONNECTED
If you like this article, you can let us know in the comments below or on social media using #gosumitup and tag me @gosumitup. I am always happy to read your feedback and if you liked the dish or if you made the dish. 🙂
Better still, take a picture and post it on Instagram and tag us as #gosumitup
Connect direct – You can also connect with me directly on my Instagram and Facebook or on Pinterest.
And, keep visiting us for more of such awesomeness. Do bookmark gosumitup.com into your web browser now or simply subscribe to our browser notifications.