Pomegranate Mint Raita Recipe – Awesome & Sweet
Pomegranate Mint Raita Recipe – It is immensely flavourful and refreshing raita using pomegranate seeds and mint leaves with a few spices. This fruity raita is very easy to make and is a perfect accompaniment to any meal.
Mint leaves give a nice refreshing taste to the raita while the pomegranate seeds give a sweet yet tangy taste to the raita. The spices add a lovely flavour and the result is delicious raita that is easy to make in minutes and healthy too. It tastes great when served chilled.
Anar ka Raita or Pomegranate Mint Raita is an Indian side dish made with pomegranate and yoghurt. It is a perfect accompaniment to any Indian meal or even had as an early breakfast. Quick and super easy to make, this raita can take your meal to the next level.
Pomegranate mint raita is very quick to make if you have the pomegranate peeled and its seeds separated. It needs some standing time post-preparation, so make it at least an hour before your meal and keep it in the fridge.
Yoghurt is beneficial for our health as it is enriched with calcium, vitamin B-2, vitamin B-12, magnesium, and potassium. Additionally, pomegranates are beneficial for our health. They help and prevent heart disease, cancer, type 2 diabetes, Alzheimer's disease and even obesity.
Raita is often referred to as a condiment, but unlike traditional western condiments like salt, pepper, mustard and horseradish that make dishes spicier, a dish of dahi or raita has a cooling effect to contrast with spicy curries and kebabs that are the main fare of some Asian cuisines.
In Indian cuisine, some type of flatbread like aloo paratha are eaten together with raita, chutneys and pickles.
Outside it is rugged and tough because of the CoVID lockdown. But, inside it is beautiful where every pomegranate seed looks like pearl-fresh, sweet and alive. They are in season, so get some.
Other than this important lesson, pomegranates are also high in nutrients that give you glowing skin and healthy digestion.
Having said that, today "it is important to build a life that is good on the inside and not just good on the outside."
POMEGRANATE MINT RAITA – HOMEMADE CURD OR BOUGHT ONE
To make this Anar ka Raita, I have used homemade curd. however, you can use a bought pack too.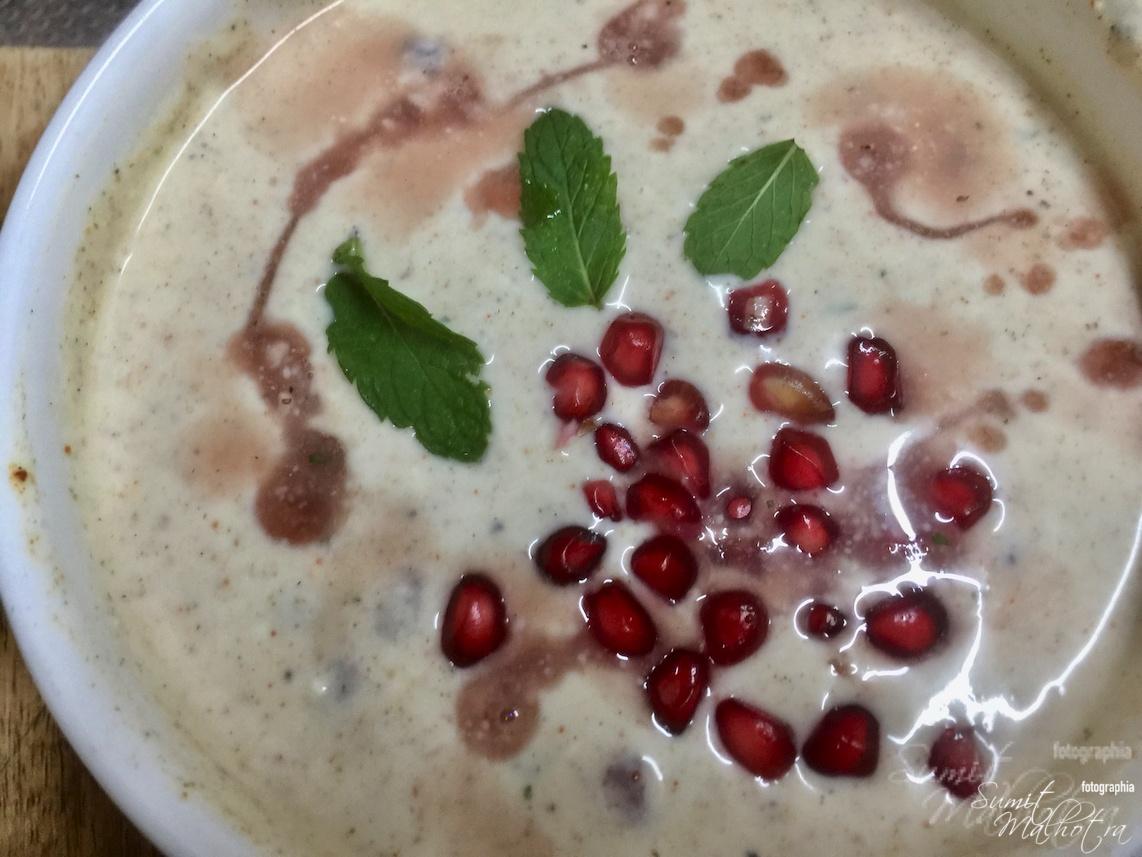 RECIPE RECOMMENDATIONS
| | |
| --- | --- |
| Cooking Tools Recommended | Recommended Ingredients |
| | |
SERVING SUGGESTIONS FOR POMEGRANATE MINT RAITA
Pomegranate & mint make very cooling and super healthy raita. It is a little spicy but at the same time crunchy and sweet due to the pomegranate pearls. You can serve pomegranate mint raita with paratha, as well as with biryani or as a side dish with any meal.
TO SUM IT UP
Pomegranate raita is one of the simplest raita recipes you can make. It is not just a delicious raita recipe but a quick too. This simple recipe goes very well with any kind of pulao/biryani and/or curries.
STAY CONNECTED
If you like this recipe, you can let us know in the comments below or on social media using #gosumitup and tag me @gosumitup. I am always happy to read your feedback and if you liked the dish :)
You can also connect with me directly on my Instagram and Facebook or on Pinterest.
And, keep visiting for more of such awesomeness.