Chicken Tikka Recipe, Homemade Chicken Tikka
Chicken Tikka Recipe – One of the most popular starters of Indian cuisine, the Chicken Tikka is the first preference for those who enjoy eating non-vegetarian foods.
Be it a restaurant or a road-side dhaba, Tandoori Chicken Tikka is one of the delicacies that you can always enjoy with your family and friends.
People, these days are spending countless hours and days glued to their televisions listening to horrific news and looking at videos and images that can make any heart cry.
Bad news after bad news coming from around the globe has moved everyone. It is also the moment that makes you realise that what's actually true is today and now!
Having said that, the the days are still good enough to do some cooking and make something that I've been thinking of making forever especially after investing in Wonderchef Gas Oven Tandoor.
With these thoughts, I got around to making some simple, yet delicious Indian Chicken Tikka.
THE STORY BEHIND THE TANDOORI CHICKEN TIKKA
Some Indian critics claim that it was born in the early 1500s when Mughal Emperor Babar, sick of choking on the bones of his tandoori chicken asked his Punjabi cooks to remove all the bones.
Cooks terrified of the angry emperor chopped off all the bones before throwing the chicken into the tandoor (clay oven). They cooked the chicken in spices and served it to the emperor. And, the tandoori chicken tikka was born.
Murgh or Chicken Tikka are ideal when you have a bunch of people coming over as a party appetizer. Since you'll have some time to plan for the party ahead, murgh tikka make an excellent choice.
It goes great as a starter or as an accompaniment with beer. However, it just needs an overnight marination. The gas tandoor is well equipped to handle the rest.
This Chicken Tikka recipe is going to sizzle your palate and have you craving for more. Do ensure you get your hands on fresh chicken thighs.
Once ready, the raw earthiness of garlic will open up your senses and the spicy mix will then take them on a whirl. You can enjoy this with tangy or spicy chutney or even with Schezwan sauce.
Go get set for a complete lip-smacking home barbequed recipe with a combination of rich, flavourful ingredients.
SO, CHICKEN THIGHS OR BREASTS?
While you should use chicken thighs, you can use either. Chicken thighs are preferred because they contain more fat & are naturally more juicy meat as compared to breasts.
As a result, cooking a chicken thigh over high heat doesn't make them dry and keeps them tender too. However, just ensure that if you are using chicken breasts you marinate them for more time than thighs to get that tenderness.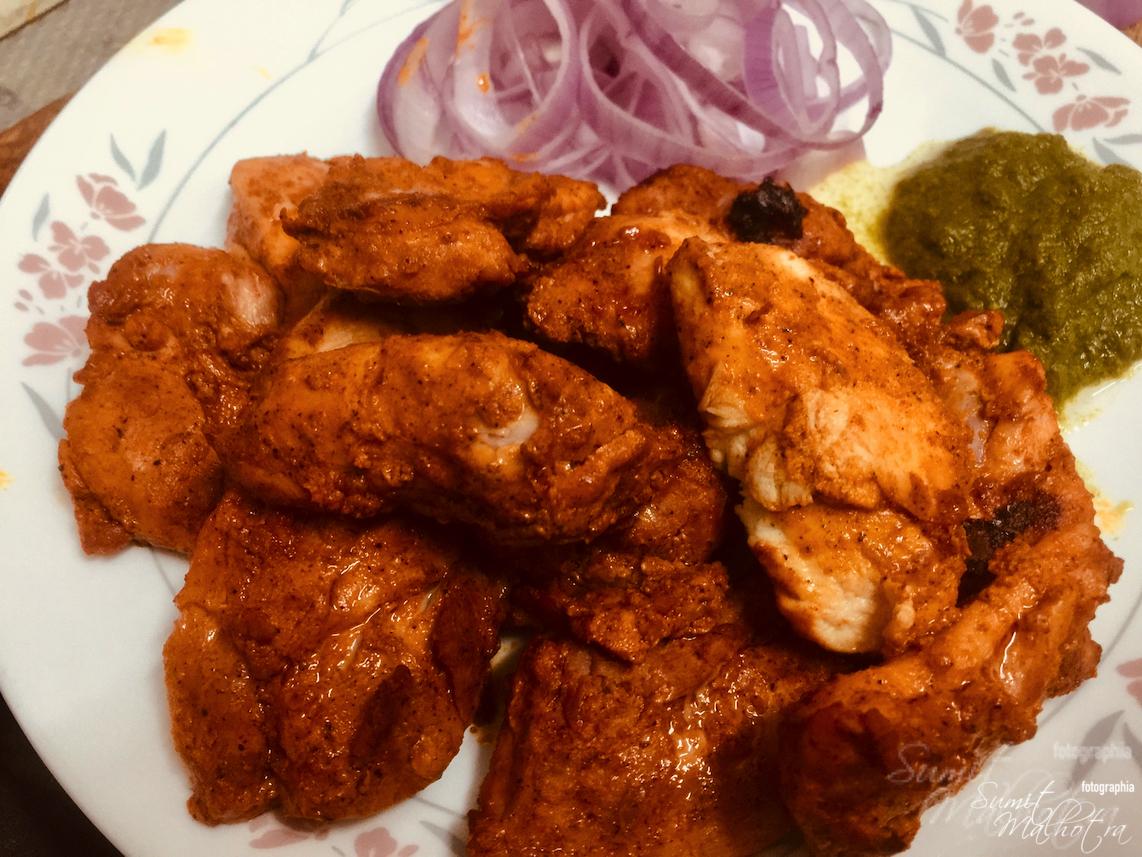 RECIPE RECOMMENDATIONS
| | |
| --- | --- |
| Cooking Tools Recommended | Recommended Ingredients |
| | |
Chicken Tikka is traditionally prepared wherein small boneless pieces of chicken are grilled on a skewer and cooked in a hot clay oven called "tandoor". Some chefs sometimes even lay them flat and cook over a hot burning bed of charcoal which is called a "sigri".
That's how it gets that smokey flavour without which Indian chicken tikka is incomplete. Well, the spices are usually the same followed by most of the chefs and cooks except for slight changes and a personal touch.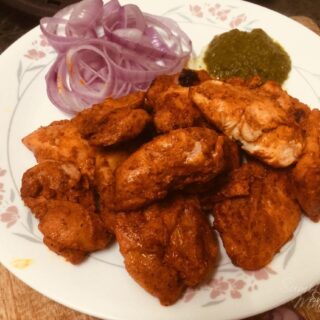 Chicken Tikka Recipe | Homemade Chicken Tikka
Chicken Tikka Recipe – One of the most popular starters of Indian cuisine, the Chicken Tikka is the first preference for those who enjoy eating non-vegetarian foods. Be it a restaurant or a road-side dhaba, Chicken Tikka is one of the delicacies that you can always enjoy with your family and friends.
Ingredients
3

Piece

Chicken Thighs

Boneless. Without skin

1/4

Teaspoon

Turmeric Powder

1/2

Teaspoon

Salt

1/2

Teaspoon

Garam Masala Powder

1/2

Teaspoon

Cumin Powder

1

Teaspoon

Coriander Powder

1/4

Teaspoon

Red Chilli Powder

1.5

Tablespoon

Ginger

Paste

1/2

Teaspoon

Garlic

Paste

1/2

Teaspoon

Carom Seeds

4

Tablespoon

Curd Hung Curd

4

Tablespoon

Butter

2

Tablespoon

Coriander Leaves

Finely Chopped

1/2

Teaspoon

Lemon Juice

For garnishing
Instructions
Get your ingredients ready.

Hang the curd if it is not a thick one already.

Wash and dry the chicken legs.

Cut the legs into half and then into two pieces each.

Coat the chicken in the lime juice, garlic paste and salt. Mix well and leave to marinate in the fridge for as long as you wish (at least 3 hours)

Add the yoghurt, ginger paste, turmeric, garam masala, red chilli powder and black cumin powder to a bowl. Mix well until combined.

Add the marinated chicken from 5.

Mix again and leave in the fridge for approximately 1 hour ( but it is better overnight) before grilling

Heat the gas oven tandoor on your gas stove and fill up the bottom tank with some water.

Place the marinated chicken tikkas on the tandoori plate.

Cover it with the lid.

Turn once after 10 minutes and baste them with some butter.

Cook for another 5 minutes. Once cooked turn off the gas and rest for 5 minutes.

Once done, sprinkle cut coriander leaves and lemon juice.

Serve with sliced onions, mint & coriander chutney and lemon wedges.
Notes
Distinction - As compared to Lehsuni Chicken Tikka, the quantity of garlic in chicken tikka is much less.
LOOKS AND READS UP LOVELY BUT, I AM A VEGETARIAN
For a vegetarian version of this chunky deliciousness, simply substitute the chicken with paneer. Paneer tikka can be made with with firm cottage cheese, and it comes out really smashingly nice and soft.
The texture of the paneer is just as melt in the mouth with a flavour of Indian spices and yogurt! Do try Paneer Kali Mirch Recipe | Super Easy Recipe for Paneer Kali Mirch
Don't get disappointed if you don't like paneer too or you are lactose intolerant. You can still follow the same tikka recipe and apart from chicken or paneer substitute chicken with mushroom, baby corns, cauliflower (gobi) or even tofu.
The taste and the aromatic flavour and the ease of cooking makes this dish one of the most popular Indian recipes.
SERVING SUGGESTIONS FOR CHICKEN TIKKA
Pile them up on to a platter and serve with tomato, dhaniya pudina, or mint and coriander chutney, and a finely chopped tomato, cucumber and onion salad steeped in salt and lemon juice on the side.
While these are good to go without but you can also pair them with roomali roti and roll them up.
TO SUM IT UP
The best pieces of spiced, succulent chicken – chicken tikka, that you have ever put in your mouth! This murgh tikka recipe will never fail to impress you. Make it to believe it.
Gorgeously delicate and melt-in-your-mouth morsels of well made charred tandoori deliciousness will leave your palate totally pampered.
STAY CONNECTED
If you like this recipe, you can let us know in the comments below or on social media using #gosumitup and tag me @gosumitup. I am always happy to read your feedback and if you liked the dish :)
You can also connect with me directly on my Instagram and Facebook or on Pinterest.
And, keep visiting for more of such awesomeness.