Biryani by Kilo Gurgaon – Super Classic Biryanis from Hyderabad & Lucknow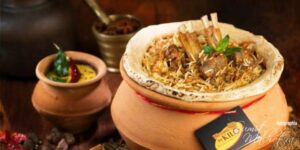 Biryani by Kilo Gurgaon brings steaming hot Biryanis right to your doorstep. The brainchild of hospitality veteran, Kaushik Roy, Biryani by Kilo uses the traditional "Dum" technique to make biryanis.
I am an addict when it comes to biryani and chicken biryani is my delicious to go. This absolutely savoury rice dish that is loaded with spicy marinated chicken, caramelized onions, and flavorful saffron rice if food sent by gods.
The order taking was a breeze. SMS confirmations from Biryani by Kilo Gurgaon kept me abreast with the status of my order. Sweet. I was waiting to bite in.
How do they do it?
Their biryanis are cooked in individual natural clay handi and are delivered in the same round clay pot. The clay pot is reusable in case you want to do your own "Matka Cooking". The biryanis are accompanied with a small candlelit stove or "Angeethi aur Aanch" on which you can do a final dum yourself should you not want to consume the biryani right then. This was something new and different hence had to be tried out for sure.
I had ordered their 1 kilo Hyderabadi Biryani (also called Kutchi dum biryani) along with Phirni quite recently and was happily astonished by the quality. It reiterated my faith in the fact that freshest ingredients yield the best food. Something it seems Biryani by kilo follows.
The "Biryani" Review
I found the biryanis from Biryani by Kilo Gurgaon to be really fragrant. They tasted very well. I was indeed having such a flavoursome biryani after a very long time. I tried their Hyderabadi biryani and Kolkata biryani both of which were authentic in taste and quite fresh. Their accompanying salan and raita were satisfactory with the biryani.
Most of my recent biryani experiments were a big disappointment, but not with Biryani by Kilo. The mutton in their Hyderabadi biryani was well cooked and literally falling off the bone.
The long grain basmati rice had the right bite and every spoonful was indeed enjoyable. There were two of us eating and we polished off the entire kilo within no time. The accompanying salan/ gravy was just a bit of a letdown but not at all bad from any corner. 
As for the phirni, it was quite nice to taste and aromatic, though I think that the rice was a tad underdone. 
Biryani by Kilo is the only Biryani Chain to make Biryani fresh for every individual order, and deliver it in the Handi in which it was cooked.
To take your Biryani experience a notch higher, they also send you an earthen Angeethi (Aanch) with each order to give the last bit of dum for the perfect smoky flavour and aroma of spices when you dig into your Biryani.
Biryani by kilo Gurgaon uses the pre-booking concept for their deliveries. What you order today is delivered to you tomorrow. This way, biryani by kilo ensures that your order comes to you at the appointed time. Biryani by Kilo, the name itself indicates that they sell by weight and not by portion.
I am yet to try their kebabs though my repeat orders for biryani will definitely go to Biryani by Kilo. They currently serve only areas in Gurgaon.
For pre-booking, you may call them at +91 9555-212-212.
To Sum It Up
Biryani is a complete meal. Filled with aromas & flavours it's recipes can be both authentic & versatile. It caters itself to delivery very well. And, this is absolutely true about Biryani by Kilo Gurgaon. Do order.