Exploring the Majestic Shivalik - The Menri Monastery
The main Bonpo monastery and the seat of the Menri Trizin
Bön Menri Monastery Dolanji – A journey through the hills often unfolds some mysteries. One gets numb and cold and the eyes explore the sides as if reading the blues of a black & white text.
My discovery of the Bön Menri Monastery (or the Yung Drung Ling) was as sudden as it was delightful. After setting up my homestay in Kumarhatti, I decided to explore the area that I was distantly familiar with and embarked on a small journey in the hills.
The destination was the Menri Monastery, situated in Dolanji, almost 26 km down the hill from Kumarhatti using SH6. The name of the monastery is derived by combining Men – Medicine & Ri – Mountain.
The monastery houses a large statue of Lord Shenrab Miwo surrounded by 1,000 smaller versions of him behind glass, an altar for offerings, many sacred texts, and musical instruments to aid in prayers and rituals.
Tonpa Shenrab (Tibetan: སྟོན་པ་གཤེན་རབ་མི་བོ་།, Wylie: ston pa gshen rab་ mi bo "Teacher Shenrab") or Shenrab Miwo also called the Buddha Shenrab, Guru Shenrab and a number of other titles – is the legendary founder of the Bon tradition of Tibet.
The monastery is a centre of many festivities, colour and vibrance during New Year's Eve when Cham or the Bon Dances are performed here.
New Year's Eve would be one of the best times to visit the monastery. But I was headed there today on a sunny day, in the middle of the monsoons in Himachal Pradesh.
When was Menri Monastery founded?
The main Bonpo monastery and the seat of the Menri Trizin
Menri, the original Yungdrung Bon monastery in Namling county in central Tibet, was founded in 1404 or 1405 by Nyamme Sherab Gyeltsen.
It was largely destroyed during the cultural revolution, and although some restoration has occurred, the site still has extensive ruins and only a tiny cohort of monks.
In 1967, Menri was re-founded at Dolanji in Himachal Pradesh, India by Lungtok Tenpai Nyima and Lopön Tenzin Namdak. This monastery has recreated the Geshe (similar to a PhD) training program and is home to over 400 monks.
Within a decade, it had become a flourishing monastery with over 300 monks students coming from central Tibet, Amdo, Kham, Ngari, Dolpo, Mongolia and the exile community in India.
Menri Monastery in India and Triten Norbutse Monastery in Nepal now host the only two Geshe programs in the Yungdrung Bon religion.
The Bonpo are followers of Bön. Bön is among the oldest indigenous spiritual traditions in the world. It originated in Central Asia thousands of years ago and eventually took root in what is now Tibet.
The Bönpo, unlike the Buddhist monks who wear yellow-orange robes, wear deep maroon robes with a royal blue vest.
According to the Bön tradition, the earliest teachings of Bön come from Tonpa Shenrap, a fully enlightened being (a Buddha), more than 17,000 years ago.
The Bön teachings, referred to by many as Tibetan Bön Buddhism, share much in common with Tibetan Buddhism, yet maintain their own unique roots and traditions.
Tonpa Shenrap Miwoche, a fully enlightened being brought these teachings to what is now Tibet.
Because Tonpa Shenrap is a fully enlightened being or Buddha, Bön's teachings are Buddhist, but from a different lineage than Shakyamuni Buddha of India. The truths of the teachings are the same.
About The Menri Monastery
Menri (Medicine Mountain) Monastery is located at Dolanji in the Solan district of Himachal Pradesh.
Dolanji has changed in recent years from a sleepy, albeit culturally important backwater, to become a bustling hub of religious learning and ritual activity at Menri Monastery.
Until 1998, Menri was a very rudimentary facility with a few simple adobe and stone buildings. Even the main temple was bereft of the rich decorations that have come to characterize Tibetan religious edifices.
There were around 100 monks then. Now there are over 400 residents, and large concrete Tibetan-style buildings have come up.
These buildings house the new temples, a library, Bon Dialectic School, dormitories, a health centre, and a nunnery as well as other well-functioning centres.
In toto, about 500 monks and nuns lead monastic lives of practice, study, and service at Menri.
The Bon Dialectic School at Menri offers the opportunity for both monks and nuns to study for the Bon Geshe (Doctor of Philosophy) degree. Menri also offers shelter, education, and loving care to about 200 children.
The chief lama of Menri Monastery is Menri Trizin, who is also the spiritual & titular head of all the Bonpo.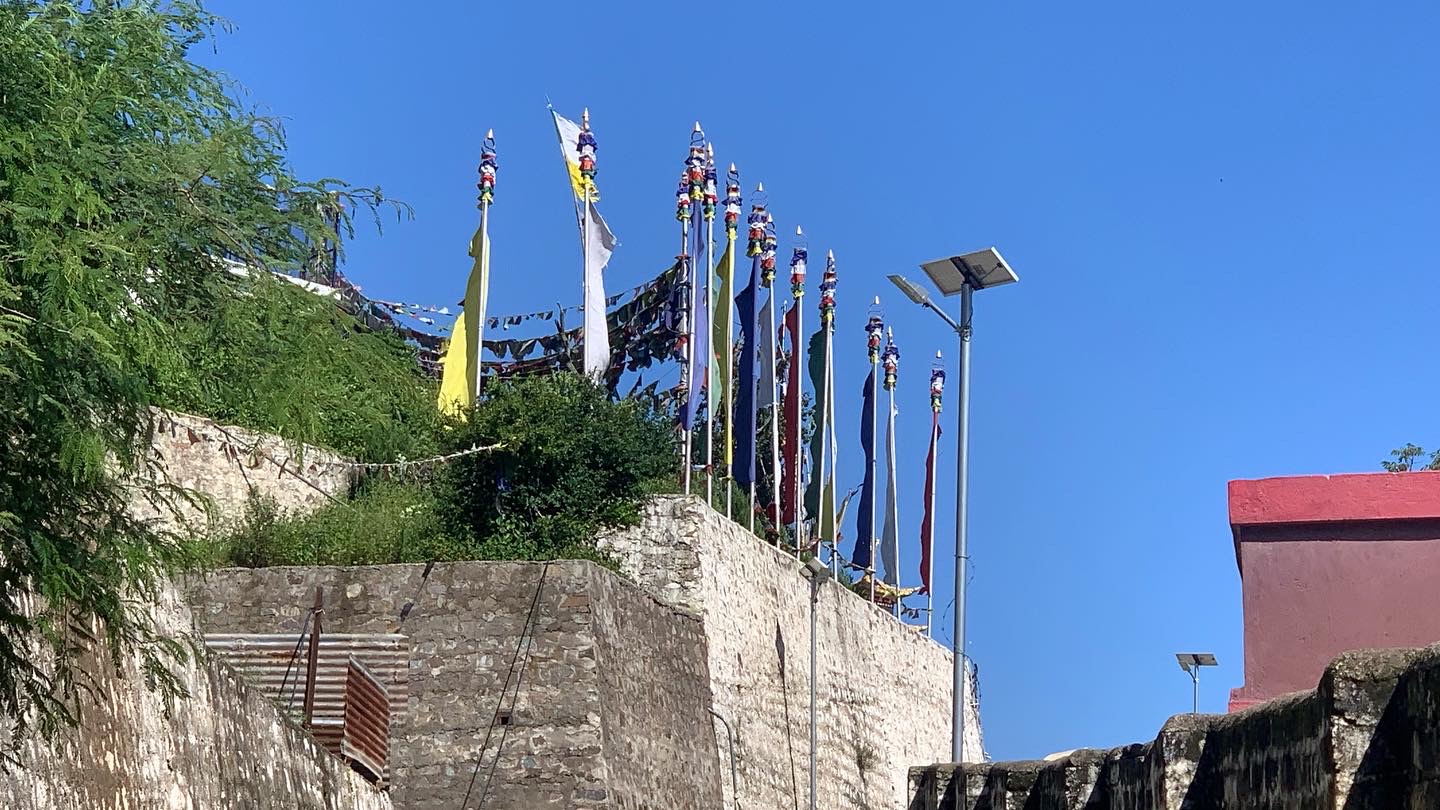 The Menri Trizin
The spiritual head of the world Bön community
His Holiness the 34th Menri Trizin Lungtok Dawa Dargyal Rinpoche is the spiritual head of the world Bön community. He succeded His Holiness the 33rd Menri Trizin Lungtok Tenpai Nyima.
How to get to the Menri Monastery?
The route map to the Menri Monastery.
There are essentially two routes for Menri Monastery. The first convenient one is taking the SH-6 if you are close to NH-907A in Kumarhatti.
This route is more picturesque than the latter and takes you through Shoolini University to Oachghat. you will also save almost 20 minutes if compared with the second route.
The second route is steep but clear too. You go to Sagar restaurant in Solan, fill up your tummies and take a right on to the Solan-Rajgarh bypass. There is not many options to sit and eat on the previous route.
Both routes will converge at the Oachghat fuel station from where you go straight.
The road eventually turns towards Rajgarh to the left. Do not turn left but go straight into the narrow road alongside the shop that says Fruits & Vegetables.
The road is that of a single lane and a bit cumbersome but with less traffic. The last leg of this road to the monastery is quite steep, bumpy & rough, but manageable. Do stay alert for oncoming vehicles.
Finally, you get to a small cluster of shops where there are stairs to the Menri monastery and small parking too.
You can either park your vehicle here or go on to the monastery where there is plenty of open space to park.
The Two Routes to Menri Monastery
Route Map Signages To Get to Menri Monastery
Why should you go to the Menri Monastery?
Historically, one of the oldest monasteries in India, the Menri Monastery Solan is one of the most colourful places in Solan.
You should visit the monastery to celebrate calmness, and spirituality and learn about living the Bon Buddhism way. The monastery houses a giant statue of Lord Shenrab Miwo that may not be known about or seen by many of us.
Menri monastery has changed in recent years from a sleepy, albeit culturally important backwater, to become a bustling hub of religious learning and ritual activity.
It is a must-visit place for tourists to glimpse an entirely different culture. The Monastery is situated atop a hill, having very picturesque views. It is calming & pious with a lot of positive aurae.
Overall, the tranquillity and ambience of this place transport you to heavenly lands.
Best Time to Visit Menri Monastery?
The best time to visit Menri monastery is New Year's Eve, as the day is celebrated with much festivity and colour.
There are timings to enter the main temple. You should ideally go before 12 noon or you'll find the main temple closed. The Lamas have lunch from 12 Noon to 1 PM, or you can go after that.
The main temple reopens post lunch and you can request a Lama to tell you about the monastery and prayer rituals etc.
Tsering Cafe - After the Menri Monastery Walk around?
If you famished, satiate your hunger pangs here
The Menri Monastery is quite elaborate. So it is obvious that the walk around will leave you hungry. If you want to treat your stomach and tastebuds, head right to Tsering Cafe in front of the steps that you descend from.
You will find some basic but formidable Tibetan vegetarian food at Tsering Cafe that you can dig into. Read the Tsering Cafe review.
Things to do in Kumarhatti
If you like this article, you can let us know in the comments below or on social media using #gosumitup and tag @gosumitup on Facebook.
I am always happy to read your feedback and if you liked the dish or if you made the dish. :)
Better still, take a picture and post it on Instagram and tag it as #gosumitup
Connect direct – You can also connect with me directly on my Instagram and Facebook or on Pinterest.
And, keep visiting us for more of such awesomeness. Do bookmark gosumitup.com into your web browser now or simply subscribe to our browser notifications.
Thank you for visiting GoSumItUp! I hope you enjoy the recipes found at www.gosumitup.com. This page consists of disclaimers regarding the recipe, it's outcome, nutrition, and food handling safety decisions.
These have been compiled for general information only and should not be used to diagnose or treat any medical condition/s.
This information is not intended to diagnose, treat, cure, or prevent any disease as well.
GoSumItUp.com has used all reasonable care in compiling the information but offers no warranty as to its accuracy or its use in any possible form.
Consult a doctor or other health care professional for diagnosis and treatment of any medical condition/s. For more details please refer to our disclosure policy.
GoSumItUp blog is not responsible for your outcome of any recipe found on this website or linked to from any other source. There are a number of factors that could contribute to not achieving the desired result when making a recipe.
Some of those can include the ingredients and brands of ingredients, ingredient substitutions, skipping steps, combining steps or altering the recipe, the equipment used, my possible errors/typos, or the reader's individual cooking ability.
I try my hardest to estimate accurate cooking and prep times for the recipes on this blog. However, it takes me only a few seconds to chop most vegetables, but it may vary for others. Experience and skill levels are always factors in the time necessary to complete a recipe.
When preparing meals, please take into account that experience in the kitchen, the ability and willingness to multitask during cooking, and whether you've purchased pre-chopped vegetables or are chopping your own, etc. are going to affect prep and cook times.
Also, everyone's oven and kitchen tools are a little different. Baking times can vary quite a bit, depending on your specific oven. So, you need to practice with and know your own equipment to achieve the best results and understand the time it may require.
I do not post any nutritional information here. To ensure the most accurate nutritional information, the reader should make calculations based on the ingredients you use, using your preferred method, or consulting with a licensed nutritional expert.
My simple goal here is your success with the recipes posted on this blog. I hope it comes out exactly as you expect it to, but sometimes it may not. I hope you'll always feel free to email me with a question so I can do my best to help.