Cholia Pulao – Chickpeas are popular among all parts of the world however, most people are familiar with beige colour chickpeas, popularly known as garbanzo beans (Safed or Kabuli Chole). Green chana or green garbanzo, most commonly known as Cholia or green chana is entirely different from its counterpart. It is fresh and green. You can also find dried green chickpeas but it is obvious that the fresh tastes the best.
Cholia / green chana is available in North India when fresh crops of these chickpeas are harvested. Vendors sell long branches (actually entire bushes) of choliya plant to which these pods are attached. Each pod contains one or two seeds.
Its a bit tedious work to remove every single legume from its pod, but while we were younger my Dadi used to put us to work of shelling these. Some used to find their way to the pan to be cooked and while others used to get routed directly into the stomach. :)
But, choliya are a delight to unshell. The greyish-green pods are like a bubble wrap, so if you enjoy popping those bubbles, then you will love shelling fresh green chickpeas. The pods are puffed up with air and give a delightful popping sound when squeezed, which is how you shell these chickpeas.
I hardly ever see the bunches of choliya now, but what we do get are deshelled choliya in a plastic packet and that too readily at my neighbourhood farm-to-fork kiosk in the city of Gurgaon. If not of popping the pods, the joy of eating choliya continues.
CHOLIA PULAO AND WHAT ALL? VARIATION SUGGESTIONS ARE HERE
The two most popular dishes, apart from eating raw choliya are aloo cholia subzi and the second is a cholia pulao. This is the recipe I am bringing to you today. The cholia puloa is quite nutritious and actually quite delectable. Cholia Pulao brings together a whole lot of vegetables with rice and makes it into a very healthy meal. If you simply pair it with a raita, your lunch or dinner is all done.
Cholia as a Snack – Its real delight to eat raw green chickpeas as a snack seasoned with some lemon juice, salt and black pepper. Really simple Eh!
Cholia as a Salad – Any vegetable salad with go well with cholia. The freshness of the resulting taste is valuable as well as nutritious. Or, you can even turn it into Hummus – simply replace Kabuli chana with cholia.
Cholia is readily available nowadays, so why not grab a pack and turn your lunch or dinner into a health-packed affair with a green chana pulao or cholia pulao for the entire family.
RECIPE RECOMMENDATIONS
| | |
| --- | --- |
| Cooking Tools Recommended | Recommended Ingredients |
| | |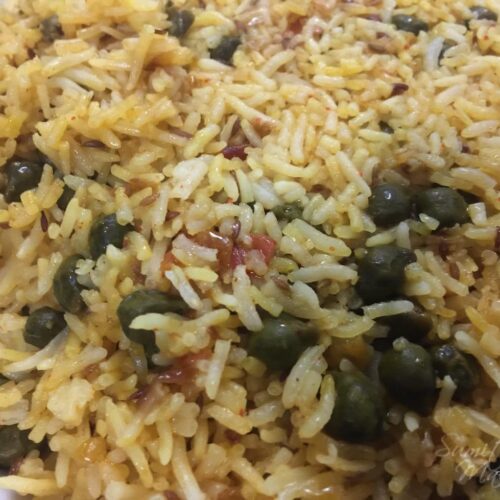 Cholia Pulao Recipe or Green Chana Pulao - Green Garbanzo Rice
This cholia pulao recipe has a fresh spring-like, earthy taste of green chickpeas, making the dish a perfect, one-pot meal for hot days. Here is the hara choliya pulao recipe with seasonal green chickpeas.
Ingredients
1

cup

Basmati rice

1

cup

Green chana

1

No

Carrot

chopped in small chunks

2 - 3

tbsp

Green coriander

finely chopped

3 - 4

tbsp

Oil

1

No

Lemon

2

No

Green chilly

chopped lengthwise

1

inch

Ginger

sliced thinly and lengthwise

2

No

Black cardamom

1

inch

Cinnamon stick

3 - 4

No

Clove

8 - 10

No

Black pepper

1/2

tsp

Cumin seeds

1.5

tsp

Salt

as per taste
Instructions
Wash rice thoroughly and soak in water for 1/2 hour.

Heat some oil in a pan.

Place green chana and carrots in a pan and stir nicely.

Cover and cook for 2-3 minutes on low flame until they get crispy.

Remove to a separate bowl.

Add cumin seeds in leftover oil.

After sauteing cumin seeds, add brown cardamom, cinnamon stick(chopped in small pieces), black pepper and cloves.

Saute for few minutes and add green chilly, ginger.

Again saute for few minutes and add soaked rice, salt.

Stir and roast for 2 minutes so that rice are nicely coated with spices.

Add 2 cups of water and mix well.

Cover and cook pulao for 5 minutes on low flame.

Open the lid and add roasted green chana, carrots, lemon juice and chopped green coriander.

Mix all ingredients really well.

Cover the rice again and cook on low flame.

Check rice after every 5 minutes and stir really well. It takes 15 minutes to cook rice.

After 10-15 minutes, choliya rice pulao will be ready.

Serve steaming hot green chana pulao with curd, chutney, dal or sabzi and relish eating.
Notes
Add vegetables and cholia to make cholia pulao recipe more nutritious.
Choliya pulao recipe tastes excellent when served hot along with raita and chutney.
A FEW THINGS TO NOTE
GO VEGAN – Use the same recipe with a vegetable oil instead of ghee.
SERVING SUGGESTIONS FOR CHOLIA PULAO
Serve it with a raita of your choice. Some options are:
Chutneys go very well with green chana pulao. Some options are:
TO SUM IT UP
This cholia pulao has a fresh spring-like, earthy taste of green chickpeas, making the dish a perfect, one-pot meal for hot days. Cholia is rich in folate, antioxidants, Vitamin A, Vitamin C, protein, iron, magnesium, calcium, potassium and several phytonutrients and hence are highly beneficial for your family's health.
STAY CONNECTED
If you like this recipe, you can let us know in the comments below or on social media using #gosumitup and tag me @gosumitup. I am always happy to read your feedback and if you liked the dish :)
You can also connect with me directly on my Instagram and Facebook or on Pinterest.
And, keep visiting for more of such awsomeness.