Homemade Mango Ice Cream Recipe - How to Make Mango Ice Cream?
Also known as mango ice cream 😉
This homemade mango ice cream is a popular and creamy ice cream variant recipe prepared with the mango flavour or mango pulp. Mango ice cream is perhaps the perhaps one of the most revered ice cream recipes especially during summers which is also the mango season.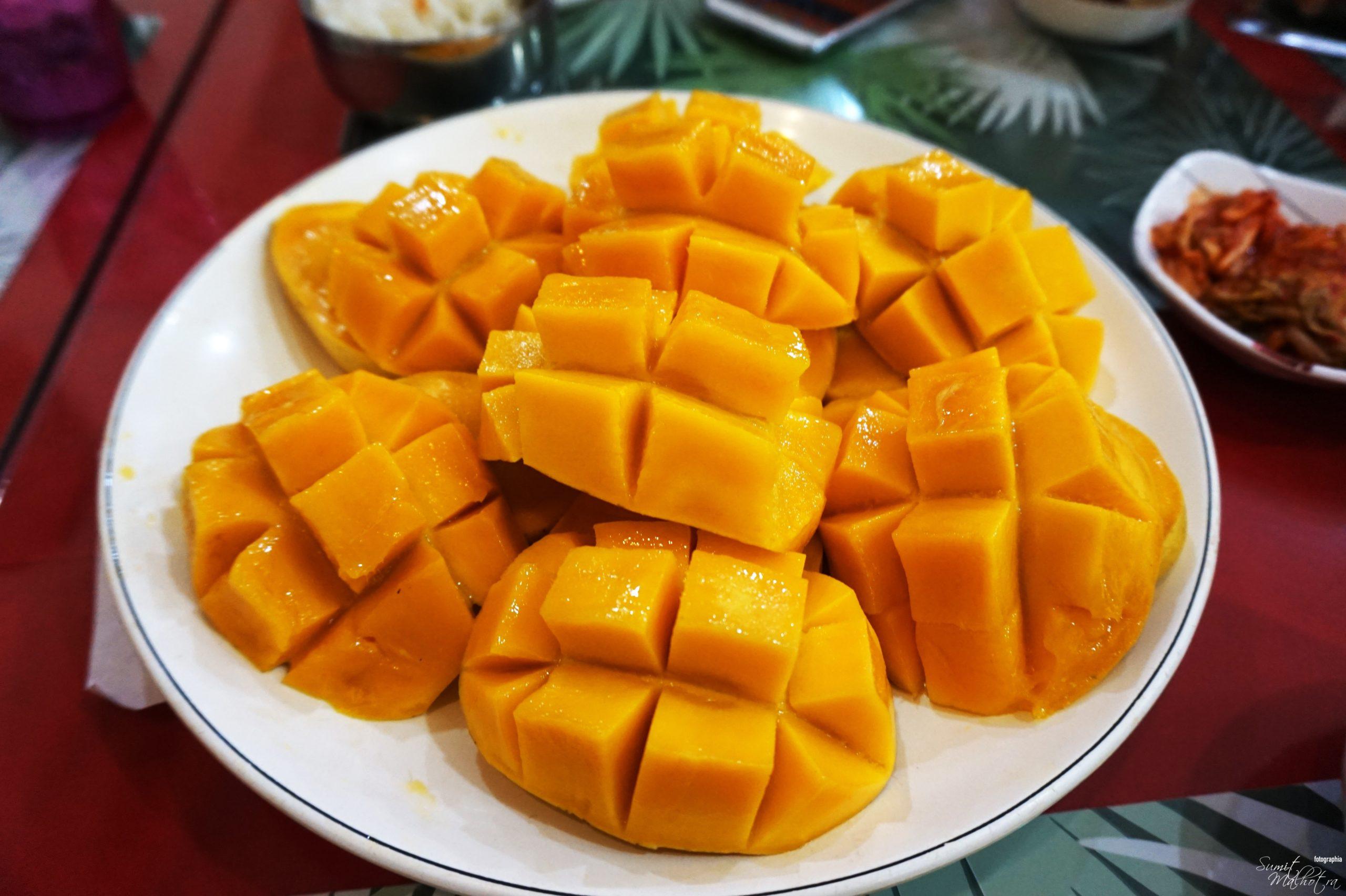 A well made Mango Ice Cream has real fruit in it for a nutrition boost and it still tastes like a very decadent treat. There's nothing like beating the summers with a scoop of mango ice cream. And, when its an easy homemade ice cream all battles are won.
This is not only vegetarian but vegan, gluten-free and eggless. A perfect creamy way to relish fresh mangoes of the season. The mango ice cream comes out super delicious when made with Alphonso mangoes. But totapuri and honey gold mangoes work very well too.
The moot point is to use really sweet mangoes so that you don't have to add unnecessary sugar to your recipe.
---
So, This Mango Ice Cream is SUGARFREE? … Eh!
Yes, you read right. This mango ice cream recipe calls for just two ingredients as long as your mangoes are sugar sweet. It also needs some muscle if you intend to go the artisanal way.
And, after that with the real flavour of mango, and not a single bit of artificial flavouring compound. You are left with a really incredible mango ice cream. For mango lovers everything, this is your mango dream come true!
It is mid-May 2020 and the sweet versions of the king of fruits, yes!! Mangoes have eventually turned in stores undeterred by the coronavirus threat. With the mangoes available, it is like a tradition to eat them and make some mango ice cream.
Summer for me really means mangoes. I for one devour mangoes like there's no tomorrow and wouldn't leave a chance to use them in recipes when they're in season.
So, let's make the creamiest Mango Ice Cream at home this summer with this simple no-fuss recipe using only 2 ingredients.
Instructions
Get your ingredients ready for the mango ice cream recipe.
Skin the mangoes and remove the flesh.
Put the flesh in a blender and make a puree.
Put the puree on a skillet and put the skillet on low flame. Reduce the puree it to half.
Cool the puree.
Whisk the cream till it is thick and until stiff peaks form. Look at the image below.

Add the puree to the cream and mix well (if you wish to add condensed milk this is when).
Pour into a container and freeze.
When it is semi-frozen, whip the mango ice cream using a blender.
Whip one more time and pour in an air-tight container, spread and freeze till set.
Scoop and serve.
Additions & Variations - Homemade Mango Ice Cream Recipe
Honey is an adequate enhancer of sweetness and it's better than sugar. In case you feel that the sweetness is less, please feel free to add it.
The creamy texture of mango ice cream can be augmented with the addition of raisins and pistachio nuts. Go right ahead and make it more rich and crunchy creamy.
To make it richer, you can add half a cup of condensed milk but watch out for the sweetness if you do it.
Recipe Notes - Homemade Mango Ice Cream Recipe
Use of sugar or honey is totally up to you. If you think mangoes are not adequately sweet. Use honey (preferably) by all means.
If you feel that the ice cream is not yellow enough, please feel free to add a spoonful of saffron milk to the mixture.
The stiffness of the cream (it's not softly whipped, it's stiff peaks) so make sure you muscle it in.
The key to this recipe to get a pronounced mango flavour in the ice cream is using ripe juicy and sweet mangoes with a strong mango flavour.
The quality of your ice cream depends largely on the quality of your mango!
Mango pulp is simmered to reduce moisture, else ice will form in your ice cream.
Serving Suggestions - Homemade Mango Ice Cream Recipe
Eat this mango ice cream at will and not just after a meal.
STAY CONNECTED
If you like this article, you can let us know in the comments below or on social media using #gosumitup and tag me @gosumitup. I am always happy to read your feedback and if you liked the dish or if you made the dish. 🙂
Better still, take a picture and post it on Instagram and tag us as #gosumitup
Connect direct – You can also connect with me directly on my Instagram and Facebook or on Pinterest.
And, keep visiting us for more of such awesomeness. Do bookmark gosumitup.com into your web browser now or simply subscribe to our browser notifications.