Palak Paneer Recipe or Indian Cottage Cheese with Spinach Recipe
How to Make Palak Paneer Recipe or Indian Cottage Cheese with Spinach Recipe
Palak Paneer Recipe is for a popular North Indian Paneer gravy dish. It is a favourite vegetarian cottage cheese preparation in which soft Cottage Cheese (Paneer) cubes are cooked in a smooth Spinach (Palak) curry. It is a perfect blend of taste and health.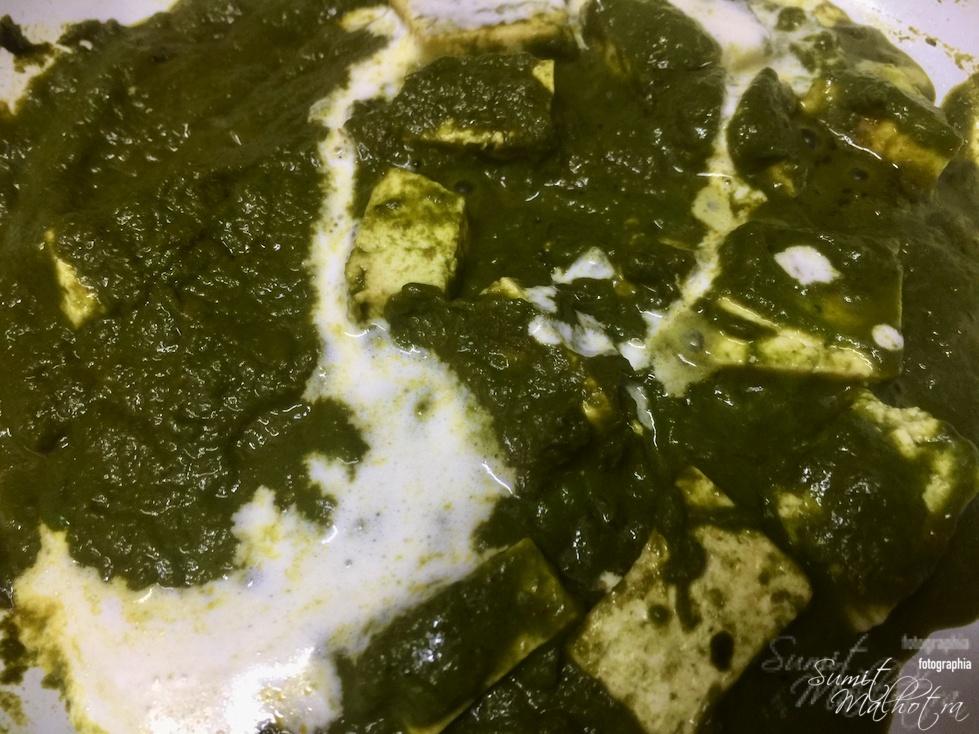 Indian Palak Paneer or Indian Cottage Cheese with Spinach is a creamily beautiful dish. Palak Paneer is a much loved classic vegetarian North Indian dish. It is quick & easy to make and is incredibly healthy too.
I am usually biased toward my comfort food. Inevitably, it's a spicy lamb/chicken curry, with dal fry and saag paneer or palak paneer if you must.
This Indian Palak Paneer recipe is loaded with the good stuff in terms of nutrition and really pretty to look at.
PALAK OR SAAG PANEER
In India, this ever-popular dish is known as palak paneer – saag is actually just a generic word for greens in India and includes mustard leaves (sarson), purslane (luni) and fresh fenugreek (methi), collard greens (Haak) apart from palak (spinach).
So, Saag Paneer can be made with any leafy greens or a combination of greens, but, Palak Paneer refers to a delectable creamy dish made with spinach leaves only.
WHAT KIND OF PALAK? TO BLANCH OR NOT
You need mature spinach for saag paneer and not the baby variety as health freaks of today promote. it should be fresh and not really frozen. This contributes to maximum flavour and health benefits.
It doesn't have to be boiled, just blanched for a few minutes (5, if you must till it wilts) in a saucepan. You should immediately immerse it into cold water to stop the cooking process and losing the nice green colour. Blend it into a puree or pound to smoothness, it is to your call and convenience.
PANEER TO FRY, OR NOT
Both work really. But in my opinion, fresh non-fried, soft paneer chunks work the best for this palak paneer recipe. Frying it introduces a few crisp edges in taste for the dish that is relished more when creamier.
Palak Paneer Recipe or Indian Cottage Cheese with Spinach Recipe
Palak Paneer Recipe or Indian Cottage Cheese with Spinach Recipe - Palak Paneer or Indian Cottage Cheese with Spinach is a creamily beautiful dish. Palak Paneer is a much loved classic vegetarian North Indian dish. It is quick & easy to make and is incredibly healthy too. Learn to make palak paneer.
Ingredients
250

Gram

Cottage Cheese / Paneer

Fresh

350

Gram

Spinach / Palak

1

piece

Tomatoes / Tamatar

Medium Sized

1

piece

Onion / Pyaaz

Medium Sized

6

piece

Garlic Pods / Lehsun

2

Inch

Ginger / Adrak

2

piece

Green Chillies / Hari Mirch

1

Teaspoon

Cumin Seeds/ Jeera

1

Teaspoon

Kashmiri Red Chilli Powder / Lal Mirch

1

Teaspoon

Turmeric Powder / Haldi

1/2

Tablespoon

Garam Masala

1

Teaspoon

Dried fenugreek Leaves / Kasuri Methi

Crushed (Optional)

2

Tablespoons

Heavy Cream

1

Tablespoon

Clarified Butter / Ghee

0.5

Teaspoon

Salt

Adjust it to your taste
Instructions
Get your ingredients ready. Cut paneer into cubes of about an inch each.

To a saucepan with boiling water, add a little salt and then spinach leaves to it.

Blanch the spinach leaves for 5 minutes until wilted.

Take them out and put them in ice-cold water to retain colour.

Cook the onion for 2 to 3 minutes until soft and translucent.

Add the tomato, garlic, ginger and green chillies and cook till rawness goes away.

At this point, add turmeric and red chilli powders.

Add this masala and spinach to a blender and make a paste.

Add a little water (1/4th of a cup), if required.

Remove to a pan and let it cook for 10 minutes on medium heat. Keep Stirring.

Add garam masala powder and 1/2 of heavy cream.

Stir in paneer cubes and coat evenly.

Leave it on a medium flame for 3-4 minutes stirring gently.

Add the remaining cream and Kasuri methi and mix well.

Serve hot with roti or paranthas.

Enjoy your meal!!
Notes
You can replace the paneer with tofu to make it a vegan Tofu Palak recipe.
To make paneer crispy, you may shallow fry the paneer.
If going the Jain cuisine way, you can make it without onion and garlic.
If you want more heat, add more green chillies to the spinach earlier.

Remember to wilt or blanch your spinach. Don't overcook it or it will lose its beautiful colour.
Step by Step - Making of Palak Paneer Recipe
SOME HOW TOs & SHOULD DOs FOR INDIAN PALAK PANEER RECIPE
Clean the spinach under running water 4-5 times to ensure the soil & dust is removed.
Do not over cook the palak. Immerse it into hot water immediately after blanching. This helps in retaining the bright green colour.
If your paneer is hard, soak it in warm water for 15 minutes. It will become soft again. For best results use home made paneer.
Add fresh cream at the end to make creamier and richer version.
If you want to make a vegan version, you can replace paneer wth tofu. You can use any vegan cream in place of regular cream to make this Indian Palak Paneer Recipe.
To make aloo paneer follow the same steps for Indian Palak Paneer Recipe and simply replaced paneer with boiled aloo.
TO SUM IT UP
Simple and easy to make, this Palak Paneer recipe makes a really popular Indian dish where Indian cottage cheese is cooked with spinach puree. It is delicious and healthy!
Goes very well with khasta roti or parantha. It is every vegetarian's delight!
STAY CONNECTED
If you like this article, you can let us know in the comments below or on social media using #gosumitup and tag me @gosumitup. I am always happy to read your feedback and if you liked the dish or if you made the dish. 🙂
Better still, take a picture and post it on Instagram and tag us as #gosumitup
Connect direct – You can also connect with me directly on my Instagram and Facebook or on Pinterest.
And, keep visiting us for more of such awesomeness. Do bookmark gosumitup.com into your web browser now or simply subscribe to our browser notifications.