Chicken Malai Tikka is succulently soft, juicy creamy chicken tikkas that simply melt in your mouth. These tender pieces of boneless chicken are marinated in a unique blend of yoghurt, cream, cheese, and spices and cooked on a gas tandoor oven. These nibbles are perfect for a luncheon or an evening over drinks.
Murgh is chicken, Malai is creamy, and Tikka refers to boneless chunks/ pieces. Together they make for something altogether irresistible.
Chicken Malai Tikka is also known as Chicken Reshmi Kabab, Chicken Malai Kabab, Chicken Reshmi Tikka, Murgh Malai Tikka, Murgh Reshmi Kabab. However, the basic composition of the recipe is more or less the same.
These tikkas are mild and creamy with a superb rich taste that lingers on long after they've disappeared.
The essence of a great Chicken malai tikka lies in its marination. To marinate this Chicken Malai Tikka we especially use 2 souring agents. One is lemon juice and the second is curd. These 2 ingredients turn the chicken pieces soft and tender as they are very good tenderizer. The buoyant flavour in the tikkas is that of cardamom while green chillies add to the spice quotient. The creaminess is also aided by the contribution of cheese in the marinade.
The richness comes in by the addition of malai or cream making it one of those lightly spiced and delicately flavoured recipes that are fabulous for kids.
Chicken Malai Tikka or Chicken Reshmi Tikkas get their name from their silky smooth, soft and velvety texture. It's a rich and indulgent starter. These tikkas stay khasta or slightly crispy or charred on outside but are super moist and soft on the inside. Despite the rich ingredients, they are very light because of their delicate texture. You will perhaps eat half a dozen without noticing that you have eaten anything at all.
CHICKEN THIGHS OR BREASTS?
While you should use chicken thighs, you can use either. Chicken thighs are preferred because they contain more fat & are naturally more juicy meat as compared to breasts. As a result, cooking a chicken thigh over high heat doesn't make them dry and keeps them tender too. However, just ensure that if you are using chicken breasts you marinate them for more time than thighs to get that tenderness.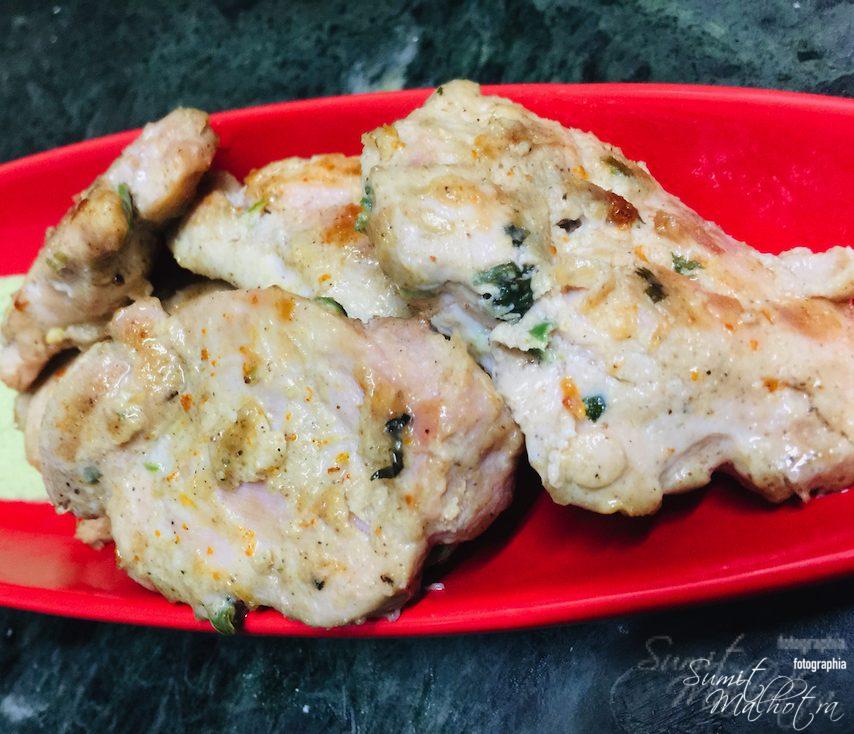 RECIPE RECOMMENDATIONS
| | |
| --- | --- |
| Cooking Tools Recommended | Recommended Ingredients |
| | |
Ingredients
Chicken Malai Tikka Recipe
चिकन मलाई टिक्का
Chicken Malai Tikka Recipe Ingredients
| | | |
| --- | --- | --- |
| what goes in? | what kinds? | how much? |
| Chicken Thighs | Boneless. Without skin | 5 No. |
| Thick Yoghurt | Hang the usual dahi or use a Greek Yoghurt | 1/4 Cup |
| Lemon Juice | Medium Sized | 1 No. |
| Garlic | Paste | 1 Teaspoons |
| Ginger | Paste | 1.5 Teaspoons |
| Cheese | Any processed cheese (grated) or even Parmesan or Cheddar or Cream Cheese | 1/2 Cup |
| White Pepper Powder | | 1 Teaspoon |
| Cardamom Powder | | 1 Teaspoon |
| Cumin Powder | | 1/2 Teaspoon |
| Green Chillies | Finely chopped | 2 No. |
| Coriander Leaves | Fresh & finely chopped | 3 Tablespoons |
| Heavy Cream | | 170 ml |
| Butter | | For basting |
| Salt | | To taste |
| Chaat Masala | For garnishing | 1/2 Teaspoon |
चिकन मलाई टिक्का के लिए सामग्री
| | | |
| --- | --- | --- |
| सामग्री | किस प्रकार की  | कितनी  |
| चिकन की थाइज़ | बिना हड्डी के। | ५ नग |
| गाढ़ी दही | दही को लटका लीजिए या ग्रीक दही लीजिए | १/४ कप |
| निम्बू का रस | मध्य आकर का | १ नग |
| लहसुन | पेस्ट | १ छोटा चमच |
| अदरक | पेस्ट | २ छोटे चमच |
| चीज़ | अमूल या बृत्तनीय या चेडर, पार्मेज़ान या क्रीम चीज़ भी ले सकते हैं | १/२ कप |
| सफ़ेद मिर्च पाउडर | | १ छोटा चमच |
| इलाइची पाउडर | | १ छोटा चमच |
| जीरा पाउडर | | १/२ छोटा चमच |
| हरी मिर्च | बारीक कटी हुई | २ नग |
| आहर धनिया | ताज़ा और बारीक काट हुआ | ३ बड़े चमच |
| क्रीम | | १७० ml |
| मखन | | टिक्के पे लगाने के लिए |
| नमक | | स्वादानुसार |
| चाट मसाला | टिक्कों पे छिड़कने के लिए | १/२ छोटा चमच |
Instructions
Chicken Malai Tikka
चिकन मलाई टिक्का बनाने की विधि
Process to make Chicken Malai Tikka
Get your ingredients ready.
Hang the curd if it is not a thick one already.
Wash and dry the chicken legs.
Cut the legs into half and then into three pieces each.
Coat the chicken in the lime juice, ginger and garlic paste and salt. Mix well and leave to marinate in the fridge for as long as you wish (at least 2 hours)
Add the yoghurt, cheese, cream, coriander leaves, green chillies, black cumin and cardamom powder to a bowl and mix well until combined.
Add the marinated chicken from 5.
Mix again and leave in the fridge for approximately 1 hour before grilling
Heat the gas oven tandoor on your gas stove and fill up the bottom tank with some water.
Place the marinated chicken malai tikkas on the tandoori plate.
Cover it with the lid.
Turn once after 10 minutes and baste them with some butter.
Cook for another 5 minutes. Once cooked turn off the gas and rest for 5 minutes.
Once done, sprinkle chaat masala and lemon juice.
Serve with sliced onions, mint & coriander chutney and lemon wedges.
चिकन मलाई टिक्का ऐसे बनाएँ
सामग्री एकत्रित कीजिए।
दही को एक कपड़े में लटका दीजिए ताकि उसमें से पानी निकल जाये और दही गाड़ी हो जाये।
चिकन को धोकर सुखा लें।
चिकन की थाइज़ को आधे में काट लें और फिर हर भाग के तीन टुकड़े कर लीजिए।
चिकन में निम्बू का रस, अदरक, लहसुन, और नमक मिला के २ घंटों के लिए फ़्रिज में रख दें।
अब दही, चीज़, धनिया पत्ता, हरी मिर्च, जीरा पाउडर और इलाइची पाउडर अच्छे से मिला लें।
इसमें ५ में मिलाया हुआ चिकन डाल लीजिए और एक घंटे के लिए फ़्रिज में वापस रख दीजिए।
गैस अवन तंदूर के सबसे निचले तले में थोड़ा पानी डाल लें।
चिकन को तंदूरी पलटे पे रख लें।
तंदूर का ढक्कन रख दें और गैस की आँच जला लें।
दस (१०) मिनट के बाद चिकन की साइड पलट लें और मखन लगा लें।
पाँच (५) मिनट के लिए और पकाएँ। पक जाने पर गैस बंद कर दें।
चिकन को पाँच (५) मिनट तंदूरी प्लेट पर रहने दें।
हो जाने पर, चिकन मलाई टिक्कों को परूसें और निम्बू का रस और चाट मसाले छिड़कें।
कटे हुए निम्बू, प्याज़ के छल्लों से सजा कर धनिए पुदीने की चटनी के साथ परोस लजिए।
Chicken (Murgh) Malai Tikka
LOOKS AND READS UP LOVELY BUT I AM A VEGETARIAN
For a vegetarian version, simply substitute chicken with paneer/tofu. Vegetarian Malai kabab can be made with with paneer, and it comes out really smashingly good. The texture of the paneer is just as melt in the mouth!
SERVING SUGGESTIONS FOR CHICKEN MALAI TIKKA
Pile them up on to a platter and serve with dhaniya pudina, or mint and coriander chutney, and a finely chopped tomato, cucumber and onion salad steeped in salt and lemon juice.
While these are good to go without but you can also pair them with roomali roti or buttered naans.
TO SUM IT UP
The best piece of creamy and succulent chicken – chicken malai tikka, that you have ever put in your mouth! This Malai Tikka recipe will never fail to impress you. Make it to believe it. Gorgeously delicate and melt-in-your-mouth morsels of well made charred tandoori deliciousness.
STAY CONNECTED
If you like this recipe, you can let us know in the comments below or on social media using #gosumitup and tag me @gosumitup. I am always happy to read your feedback and if you liked the dish 🙂
You can also connect with me directly on my Instagram and Facebook or on Pinterest.
And, keep visiting for more of such awsomeness.