Exploring the Majestic Shivalik - Dagshai
Dagshai is not just a touristy town located in the state of Himachal Pradesh. It has an awe-inducing history.
Dagshai, also known as Daagh-e-Shahi in the past, is one of the oldest cantonment towns in the Solan district of Himachal Pradesh, India.
Dagshai was the third cantonment, after Subathu & Kasauli, to be established by the British in the Shiwalik hills of Solan. Dagshai hill as a site for cantonment was selected in October 1846, by British officer Robert Napier.
After defeating the Gorkhas in the Anglo-Gorkha war of 1814-15, the Britishers had become the new masters of the Himachal hills & turned Subathu into their headquarters for overseeing the affairs of the hills.
To further strengthen their presence and to keep their troops at strategic locations and closer to the plains, the British started building their cantonments. Kasauli was founded in 1842 and Dagshai in 1847.
Dagshai cantonment is situated on top of a 5,689-foot (1,734-m) high hillock that stands sphinx-like astride the Kalka-Shimla Highway at a point about 11 km from Solan.
Today, Dagshai is home to an army cantonment, some army buildings, a couple of schools, local homes & shops, and a supposedly haunted English cemetery & Central jail.
Dagshai Jail Museum, the second such museum in the country after Cellular Jail Museum, Port Blair, was opened for the public in October 2011.
Dagshai also has some beautiful & isolated sunset points in this part of Himachal Pradesh. It also has a lot of picnic spots with grand views.
From some of these spots, one can see the entire Panchkula and Chandigarh lights at night. Also, one is able to see Timber Trail Heights and Timber Trail Resorts, Parwanoo.
About Dagshai Jail
From Dagshai Jail to Dagshai Heritage Museum
The Dagshai Central Jail in India was built in the year 1847, a T- shaped building of local stone masonry with 54 tiny cells.
Apart from the Cellular Jail in the Andamans, it is the only other Indian museum that once was a jail.
It is situated around 11 km. from Solan, in Dagshai, Himachal Pradesh, and maintained by the Engineering wing of the Indian Army.
The structure holds 54 maximum security cells, out of which 16 cells were used for severe punishments. The cells were hardly ventilated and there was no source of natural light.
There was a special cell at the jail that was kept for an extreme punishment called "Bread and Water Punishment".
Under this punishment, a prisoner was made to stand still in a small gap between the cell door and the outer iron grills and given only bread and water.
This gap is so small that anyone standing can't even move or stretch their arms.
The architecture of both the jail and the museum is typically British and green in colour. It was for prisoners accused of treachery who were subjected to cruel chastisement, barricades and doors.
The museum today in the jail compound has old photographs of houses that recreate the history of the place and some memorabilia from the colonial period.
The 173-year-old Central Jail is now designated as a heritage site by Himachal Tourism. The jail was converted into a museum by the curation & exhibit furnishing efforts of Dagshai resident Dr Anand Kumar Sethi.
The establishment of the restoration project was also due to the drive of Brigadier Ananth Narayanan, the Brigade Commander of Kasauli who Anand Kumar Sethi had approached.
Anand Kumar Sethi helped him in the curation of the museum with vintage and archival photographs and other materials sourced from India, the U.K. and Ireland.
Dagshai Jail museum was inaugurated by Major General SK Gadeock on 13 October 2011.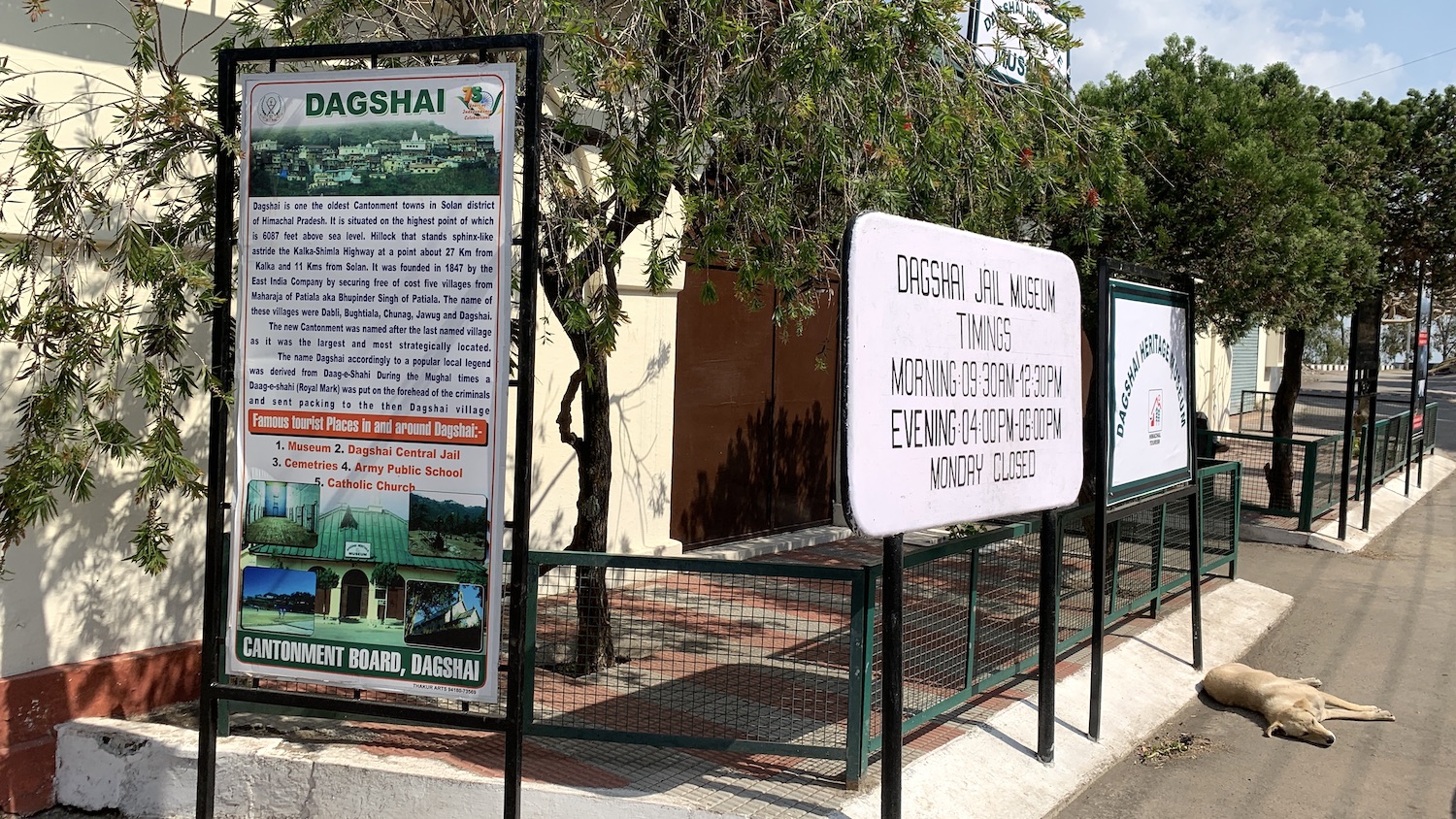 When was Dagshai founded? Some bits of History
Dagshai or Daag-e-Shahi - The Central Jail & Jail Museum
Before its colonial past (British), Daag-e-Shahi had a Mughal & then a Punjabi history. Apart from the folklore, this can also be seen on a rock edict on the Army School Dagshai premises.
The Mughals would send hardened criminals here for capital punishment and branded them by stamping their foreheads; hence, the town got its name "Daag-e-Shahi" which translates into "Royal Mark".
And as if continuing with the Mughal tradition, the British built their notorious prison here in 1849, two years after founding Dagshai.
In 1845 when the Sikhs invaded the British territory by crossing the Satluj river, the rulers of many hill provinces sided with the British.
Many of these hill-state rulers entered into secret communication with the British. Technically, during this time Maharaja Sir Duleep Singh was the ruler of Punjab, with his mother ruling on his behalf.
After winning the First Anglo-Sikh War (1845), the British retained Maharaja Sir Duleep Singh as nominal ruler.
The British Crown deposed him after their decisive victory in the Second (2nd) Anglo-Sikh War (1849), and after that exiled Duleep Singh to Britain at age 15. The British finally annexed Punjab on 29 March 1849.
However, it is totally incorrect from the chronological point of view that Maharaja of Patiala, Bhupinder Singh gifted the villages of Dagshai, Dabbi, Bughtiala, Chunawag and Jawug to the British.
The villages may have been gifted, but not by the Maharaja of Patiala Bhupinder Singh because the said Maharaja was not even born at the time of gifting. He was born on 12 October 1891.
So who did the gifting of the villages for Dagshai?
Possibility 1: Maharaja Narinder Singh, the great-grandfather of Bhupinder Singh. This was the time when many rulers had entered into secret communication with the British so this becomes a strong possibility. Maharaja Narinder Singh was one of the first local rulers to receive the Order of the Star of India and was a Member of the Indian Legislative Council during Lord Canning's Viceroyalty and these villages belonged to the friendly Patiala state.
Possibility 2: Maharaja Sir Duleep Singh himself or through his mother may have negotiated this as a trade-off for his life in exile in Britain thereby protecting his life. This could also have been done through the State of Patiala since these villages were in their domain.
However, this is probably a misrepresented piece of important history that appears on websites, including some official ones like Dagshai Cantonment & APS Dagshai, which needs to be corrected so that the actual truth is presented.
Lesser Known Fact About Dagshai - The Cyclist Battalion
1/9th Cyclist Battalion of the Hampshire Regiment
The history of bicycle infantry worldwide is quite fascinating.
In the mid-1890s several armies experimented with their use to replace their horses in military duties, especially as messengers and scouts; in effect, taking over the functions of dragoons (mounted infantry).
Dagshai was home to the 1/9th Cyclist Battalion of the Hampshire Regiment. There is an extraordinary engraving on a rock that depicts the old military insignia of the cyclist battalion.
There was also the more "colourful" 25th (County of London) Cyclist Battalion, The London Regiment, stationed in Dagshai in 1918, with a detachment in Jutogh, near Shimla.
Lesser Known Fact About Dagshai - The Irish Mutiny
The Irish Connection & the Mutineers
Among those fighting side by side with the Indian troops at the battles near Ypres and Somme were the Irish soldiers of the first battalion of the Connaught Rangers (the "Devil's Own"), as part of the Lahore Division.
In 1920, the Connaught Rangers battalion was posted back to India and a garrison was deployed in Solon (now Solan) area presumably in or around Dagshai.
After this, there was a mutiny in protest of the activities of the Royal Irish Constabulary and the Black & Tans in Ireland in Solon (now Solan).
The Irish at this Indian station grounded their arms and refused to soldier until all British soldiers had left Ireland.
However, the initial mutiny started at Jullundur (now Jalandhar), where five men from the C Company of the First Battalion at Wellington Barracks, protested against the consequences of martial law in Ireland by refusing to do their jobs.
This part of the mutiny was peaceful and may even have absorbed the values of Mahatma Gandhi's campaign against British rule.
Following this mutiny by Irish soldiers, in support of the independence struggle then unfolding in Ireland, dozens of Irish mutineers were incarcerated at Dagshai Prison.
Dagshai jail's notoriety hit its peak in 1920 when sixty-one men were convicted for their role in the mutiny. Of these, fourteen mutineers were sentenced to death by firing squad. These sentences were later commuted.
However, James Daly, a private from the 1st battalion of Connaught Rangers, was the only one shot by a firing squad on November 2, 1920.
Daly was just 21 years of age at that time and was considered the leader of the mutiny at Dagshai by the British. His brother William Daly was involved in the mutiny at Jullundur & James may have got inspired by him.
James Daly was buried at the Dagshai Cemetery until 1970 when his remains were repatriated to Ireland and given a funeral with full military honours.
This precipitated a chain of events that led to the independence of Ireland and inspired India's struggle for independence.
Lesser Known Fact About Dagshai - Mahatma Gandhi's Visit
Mahatma Gandhi's sympathies with Irish soldiers in Dagshai & the Irish.
His sympathies with Irish soldiers prompted Mahatama Gandhi to rush to Dagshai and and stand in solidarity with the Irish. Gandhi was a friend and admirer of the Irish leader Eamon de Valera.
Perhaps, the Indian Independence movement took some inspiration from the Irish struggle against British rule and vice versa.
The visit by Gandhiji to Dagshai was not liked by Winston Churchill, who was the Defence Secretary. Hence, strong action against the Irish mutineers was taken to set an example for any Indians who were so inclined.
Mahatma Gandhi was lodged in the sole VIP cell. The cell had luxuries such as a fireplace and washroom.
According to the information, to provide moral support and show his solidarity with the Irish cause, Gandhi voluntarily spent a night and two days at Dagshai jail.
Due to this visit of Mahatma Gandhi, the British made arrangements for his stay in the cantonment area.
However, Gandhi refused the arrangements for staying at the cantonment & asked to stay with the prisoners in the jail itself, upon which he was kept in the VIP cell.
Lesser Known Fact About Dagshai - Nathuram Godse
Nathuram Godse was seemingly the last prisoner of Dagshai on his way to Simla for his sentencing.
It has been mentioned that Nathuram Godse, the assassin of Gandhiji was kept in the Dagshai Jail. He was imprisoned and kept in cell number 6.
He was being transferred from Delhi to Simla to face the judges at the High Court for his trial. His transfer records show that he was kept in jail "near Solan".
In 1949, there was no jail in Solan and "near Solan" may mean Dagshai. Hence, it is firmly believed that Nathuram Godse was kept in Dagshai Central Jail.
Possibly the "hazy" record is on purpose for security reasons. Godse did have de-tractors who would have gladly taken the law into their own hands.
However, Anand Kumar Sethi endorses this as a fact to The Wildcone. Records show that Godse was brought from Delhi and kept in this jail before he was taken to Shimla for his trial.

I know it for a fact that this is true because my nana was one of the two judges, who heard this case," said Mr Sethi.
Godse was sentenced to death by hanging on November 8, 1949, and was executed in the Ambala jail on November 15, 1949.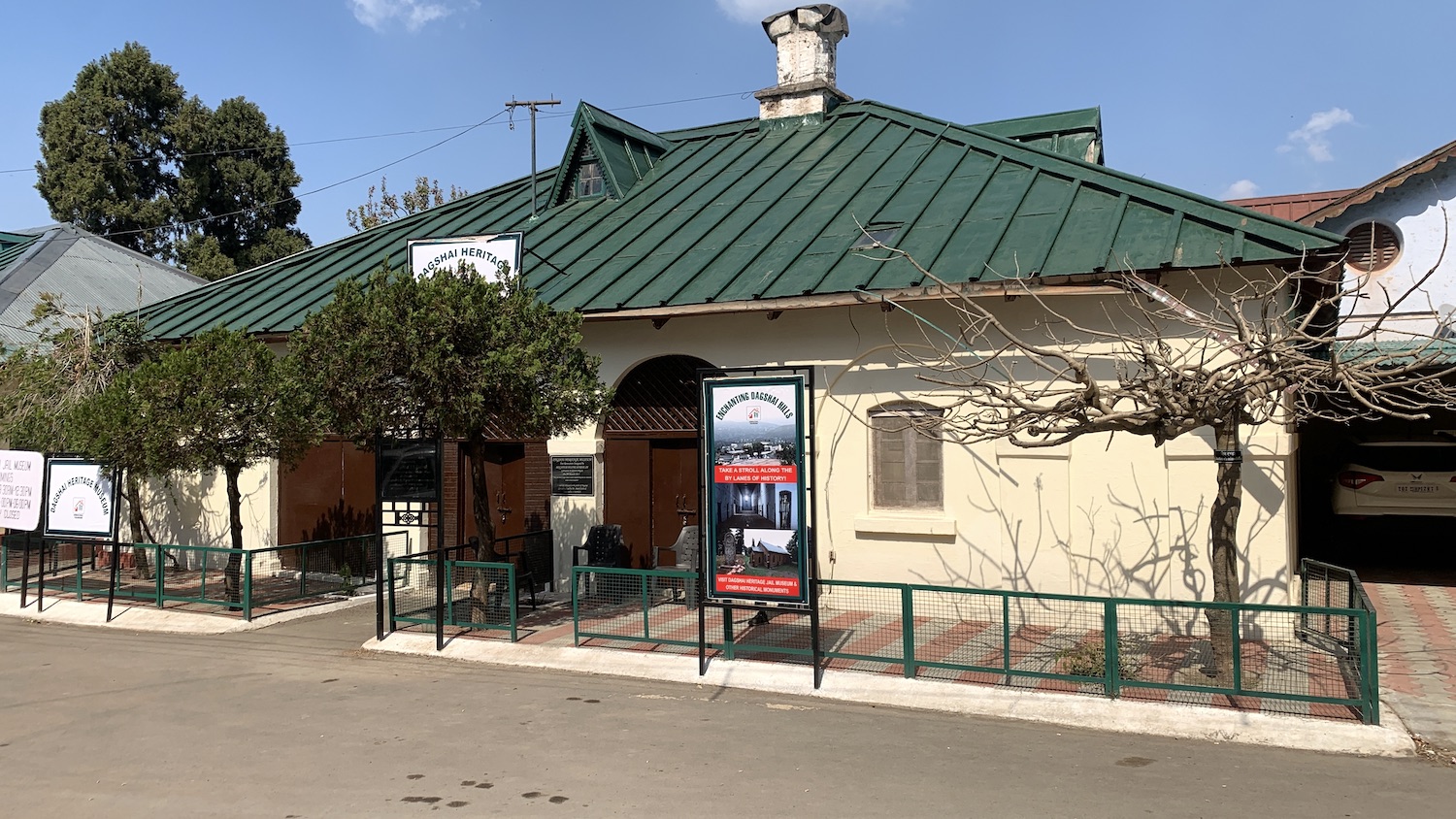 Dagshai Jai Museum Timings
What are the timings for Dagshai Jai Museum?
Dagshai is a small town in Himachal Pradesh but full of amazing history. The weather in Dagshai is just like that of Shimla and it has to offer Dagshai Jail Museum, especially to those interested in History.
The following are the timings for visiting Dagshai Jail Museum.
How to get to Dagshai, Himachal Pradesh?
The route map to Dagshai Cantonment.
The quaint but beautiful town of Dagshai Solan is an offbeat hill station in India. Dagshai Hills has some breathtaking landscapes, crisp and clean air, and attractions.
Many people visit this place every year to have an enjoyable time with their family and friends.
Kasauli and Dagshai are neighbours. Both the hills face each other with Dharampur town in between.
To reach Dagshai, you first need to get to Dharampur, which is around 10 km from Kasauli. From Dharampur, Dagshai is just about a 10-minute drive.
How to reach Dagshai?
By road: Take the NH22 to reach Dharampur via the Pinjore-Kalka-Parwanoo bypass. After Dharampur, a road branches off to the right with a signboard announcing the same.
A steep climb takes you to the town at Dagshai Cantonment.
Upon entering the town, take a left at the T-junction to enter the precincts of Army Public School Dagshai. Drive along this road to reach the Dagshai Jail Museum.
By rail: The nearest train stations are Dharampur or Kumarhatti. To get to Dagshai, you have to use the "Toy Train" up to Kumarhatti/ Dagshai station and then take the road as given above.
By air: You can choose between Chandigarh and Shimla airports.
Things to do in Kumarhatti
If you like this article, you can let me know in the comments below or on social media using #gosumitup and tagging @gosumitup on Facebook.
I am always happy to read your feedback and if you liked the dish or if you made the dish. :)
Better still, please take a picture and post it on Instagram and tag it as #gosumitup
Connect direct – You can also connect with me directly on my Instagram and Facebook or on Pinterest.
And, keep visiting us for more of such awesomeness. Do bookmark gosumitup.com into your web browser now or subscribe to my browser notifications.
Thank you for visiting GoSumItUp! I hope you enjoy the recipes found at www.gosumitup.com. This page consists of disclaimers regarding the recipe, it's outcome, nutrition, and food handling safety decisions.
These have been compiled for general information only and should not be used to diagnose or treat any medical condition/s.
This information is not intended to diagnose, treat, cure, or prevent any disease as well.
GoSumItUp.com has used all reasonable care in compiling the information but offers no warranty as to its accuracy or its use in any possible form.
Consult a doctor or other health care professional for diagnosis and treatment of any medical condition/s. For more details please refer to our disclosure policy.
GoSumItUp blog is not responsible for your outcome of any recipe found on this website or linked to from any other source. There are a number of factors that could contribute to not achieving the desired result when making a recipe.
Some of those can include the ingredients and brands of ingredients, ingredient substitutions, skipping steps, combining steps or altering the recipe, the equipment used, my possible errors/typos, or the reader's individual cooking ability.
I try my hardest to estimate accurate cooking and prep times for the recipes on this blog. However, it takes me only a few seconds to chop most vegetables, but it may vary for others. Experience and skill levels are always factors in the time necessary to complete a recipe.
When preparing meals, please take into account that experience in the kitchen, the ability and willingness to multitask during cooking, and whether you've purchased pre-chopped vegetables or are chopping your own, etc. are going to affect prep and cook times.
Also, everyone's oven and kitchen tools are a little different. Baking times can vary quite a bit, depending on your specific oven. So, you need to practice with and know your own equipment to achieve the best results and understand the time it may require.
I do not post any nutritional information here. To ensure the most accurate nutritional information, the reader should make calculations based on the ingredients you use, using your preferred method, or consulting with a licensed nutritional expert.
My simple goal here is your success with the recipes posted on this blog. I hope it comes out exactly as you expect it to, but sometimes it may not. I hope you'll always feel free to email me with a question so I can do my best to help.