Bottle Masala Omelette Recipe
So my bottle masala omelette is absolutely delicious. And, my tryst continues with the same spice mix. Hence, I used it for making my breakfast this morning. In fact, the flavours of this East Indian masala have enamoured me to cook more and more.
And this time, the fiery red colour of the mixed spice gave a nice rich tinge to the omelette I used it in. It was a brilliant eat of the bottle masala omelette.
So do you know this East Indian Masala was traditionally stored in long-nosed glass bottles?
These were usually beer bottles. And, that's how the masala got the name "Bottle Masala". Back then the bottle masala was tightly packed with a stick to remove the air within the spices in the bottle. This made it airtight and hence not easily spoilt.
The Story – Bombay's growth, in the 19th century, was good news for the local Christians, who were well-positioned to work with the British rulers. But they were less than pleased to find that the city's prosperity started attracting Goan Christians, who were soon competing for the same jobs.
To differentiate themselves the locals decided to adopt a new name and the name they chose was East Indians, after the East India Company.
The fact that this made them East Indians in Western India didn't seem to matter. Though in time a further level of confusion was added when people abroad started referring to all Indians as East Indians.
This helped them distinguish Indian from the West Indians of the Caribbeans, which would make the community East Indian East Indians from Western India.
The Bottle Masala – Spices in the airtight bottles remained fresh over long periods of time along the humid Indian coastline. Even today, a little is taken out and used in various dishes. And, this happens every day.
History & story on one side, my challenge was different. At this time, I didn't have a fixed recipe in mind for the masala omelette. And, not much came out of my research on the internet either.
So I played on by my instincts and got amply rewarded. The bottle masala omelette came out to me nice & spicy. It was a perfect finish to a filling and satisfying breakfast.
For more recipes with egg, click here.
East Indian Masala Omelette Recipe
Preparation Time: 5 minutes
Cooking time: 10 minutes
Cooking Gizmos: Frying Pan
Serves: 1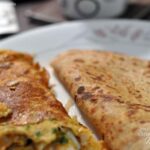 Ingredients
| | | |
| --- | --- | --- |
| what goes in? | what kinds? | how much? |
| Eggs | | 2 No. |
| Vegetable Oil | I used Canola Oil | 1/2 Tablespoon |
| Onion | Finely Chopped | 1 Medium |
| Green Chillies | Finely Chopped | 2 No. |
| Ginger | Finely Chopped | Small knob |
| East Indian Bottle Masala | | 1/4th Tablespoon |
| Coriander Leaves | Fresh; Finely Chopped | Small bunch |
| Salt | | To Taste |
Instructions
Finely chop onions, green chillies & ginger.
Beat the eggs with salt, east Indian bottle masala and chopped coriander leaves.
Heat oil in a frying pan and saute onions, chillies and ginger.
Add the beaten eggs and lower the heat.
Flip the omelette and cook the other side.
Serve with hot paranthas or slices of bread.
Enjoy the bottle masala omelette!
Notes
Incredibly easy and full flavoured omelette recipe.
Visual process for making East Indian Masala Omelette Recipe?