Haryanvi Cuisine - Food from the State of Haryana
Haryana is also known as the "Land of Rotis" and the "Abode of God".
Haryanvi Cuisine: Haryanvi cuisine is like the people of Haryana – simple, earthy and attached to their lands. The simpler the culture or civilisation, so is the cuisine which is uncomplicated and essentially implies sustenance.
Haryana is one of the wealthiest state of India as it is a rich cattle wealth & agriculture state. That makes the cuisine of Haryana simple and fresh with goodness of nature.
Evolution of Haryanvi Cuisine - The Food from Haryana
Haryanvi cuisine has evolved by being strongly influenced by the Mughals.
Haryana with its essentially agrarian culture has retained simplicity in its cuisine. Hence, the 'Land of Rotis' is an appropriate title for Haryana, as people are fond of eating different kinds of rotis here. It is also called the "Abode of God" being derived from the Sanskrit words Hari ("the Hindu God Vishnu") and Ayana ("home").
Haryanvi locals have a range of famous delectable delights in their cuisine from Haryana. The dairy of Haryana is also very famous and forms an integral part of Haryana cuisine. Haryana is home to the famous Murrah buffalo and the Haryana cow.
No wonder there is an abundance of milk and milk products in Haryanvi cuisine. People make white, unsalted butter and ghee at home and use these liberally in their daily diet. This homemade fresh butter is called nooni or tindi ghee and is churned daily in most homes.
People in Haryana prefer a wholesome diet to complement their laborious daily schedule. So, the emphasis is on eating food that is wholesome & nutritious, fresh and prepared with little or no fuss at all.
You will not find people opting excessively for restaurant food, especially in the smaller towns, as homemade meals are most cherished, using ingredients grown mostly in their own land.
Wheat rotis are common and so are baajre ki roti & makke ki roti. In older times, roti would be made from a flour of wheat, gram and barley, a truly healthy & nutritious combination. Then, there is the gochini atta made from wheat and gram flour.
One thing is for sure that the Haryanvi are essentially vegetarian. Haryana was a part of Punjab till 1966 and it shares its borders with several states of North India like Rajasthan, Delhi, Uttar Pradesh, Punjab, and Himachal Pradesh.
So, Haryanvi food has had an influence and similarities with different culinary regions. Some of the dishes are even shared amongst these common borders.
Special Food of Haryana | Unique & Common Haryanvi Dishes
Delectable dishes from Haryanvi cuisine that locals love & share.
Rajma Chawal: Rajma Chawal is a dish quite popular in both Punjab and Haryana. This delicious red kidney bean curry is eaten with simple steamed or jeera rice. Its important to realise here that, Rajma made in Punjabi style are heavier and spicier than the Haryanvi style.
Kadhi Pakora: This is a simple but very tasty dish. Gram flour (besan) dumplings are cooked in yoghurt based curry on low flame for some time, rendering it an aromatic flavour. The dish is loved by everyone in Haryana, Punjab, UP & Rajasthan. 

Tamatar Ki Chutney: It is a spicy and tangy sauce of ripe tomatoes prepared with lots of spices and some sugar or jaggery. With Haryanvi style breads, it tastes delicious. Again, multiple versions are available in Haryanvi, Punjabi and Rajasthani & Uttar Pradesh Cuisines.
Mixed Dal – Mixed Dal is a protein-rich recipe in which various lentils (chana, toor, masoor and moong dal) are cooked with spices and ghee. It is usually served with steamed or jeera rice in both Haryana & Punjabi. Rajasthani cuisine have a similar dal called Dal Panchmel or Panchratan Dal made with toor dal, moong dal, channa dal, masoor dal and black urad dal.
Sarson Ka Saag – Haryana locals cook sarson ka saag and bajre ki roti in a simple way. In terms of taste, it is a bit dissimilar from the way Punjabis make it as they use dollops of ghee, tomatoes and garlic. However, in Haryana too, it may be paired with Ghee or Butter and Bajre ki roti or Makki ki roti. It finds its place all over varied North Indian cuisines.
Besan Aloo Ka Paratha or Roti – It's prepared with the mixture of besan (gram flour), mashed potatoes, onions, ginger garlic paste, garam masala and coriander leaves to garnish it. Besan Aloo Paratha or Roti is served with butter on it and is not only healthy but delicious too. Another similar paratha or roti is made with bajra & mashed potatoes in Haryana as well as that too is quite popular with the locals.
Gajar Methi Ki Sabzi: Gajar Methi ki Sabzi is prepared with chopped carrots and methi, cumin seeds, oil, red chilli and turmeric powder. This dish is loaded with essential minerals, carrots are enriched with antioxidants and is a winter favourite.
Baingan Ka Bharta: Baingan ka bharta is prepared by mincing grilled eggplant and cooking it with tomato, onion, herbs and spices. Grilling the eggplant over charcoal or direct fire infuses the dish with a smoky flavour. It is a favourite with Haryanvi and Punjabi folks.
Hara Dhania Cholia – Hara Dhania Cholia is an authentic and unique Haryanvi Dish. It is prepared from fresh green chickpeas or hara chana. It is made into a curry with onions, tomatoes, coriander & local spices. The Punjabi version usually has potatoes added to the curry.
Singri ki sabzi: Singri ki Sabzi or Ker Sangri is a traditional Haryanvi & Rajasthani dish made with dried ker berry and sangri beans. An assortment of five vegetables — ker, sangri, babul fali (kumatiya), gunda (gum-berry) and amchur, it is often made into a spicy dry vegetable. It is favoured for its benefits for curing cough and cold, diarrhoea and improving immunity.
Kachri ki Sabzi: Kachri is a commonly found vegetable in Haryana. It is a wild variety of cucumber that looks like a brown yellow small melon. It is also used to make pickles and chutneys and as a tenderiser in dry meat preparations. Kachri has a sour taste, hence it is a significant source of vitamin C. It also acts as a coolant for body in hot climate. 
Teet Ka Achar: Teet or Tenti is Ker berry. It is also known as "dela" in Punjabi. It has numerous benefits for the human body. It balances the acid and controls the blood pressure in our bodies. This pickle can be made with the berry alone or also mixed with other vegetables.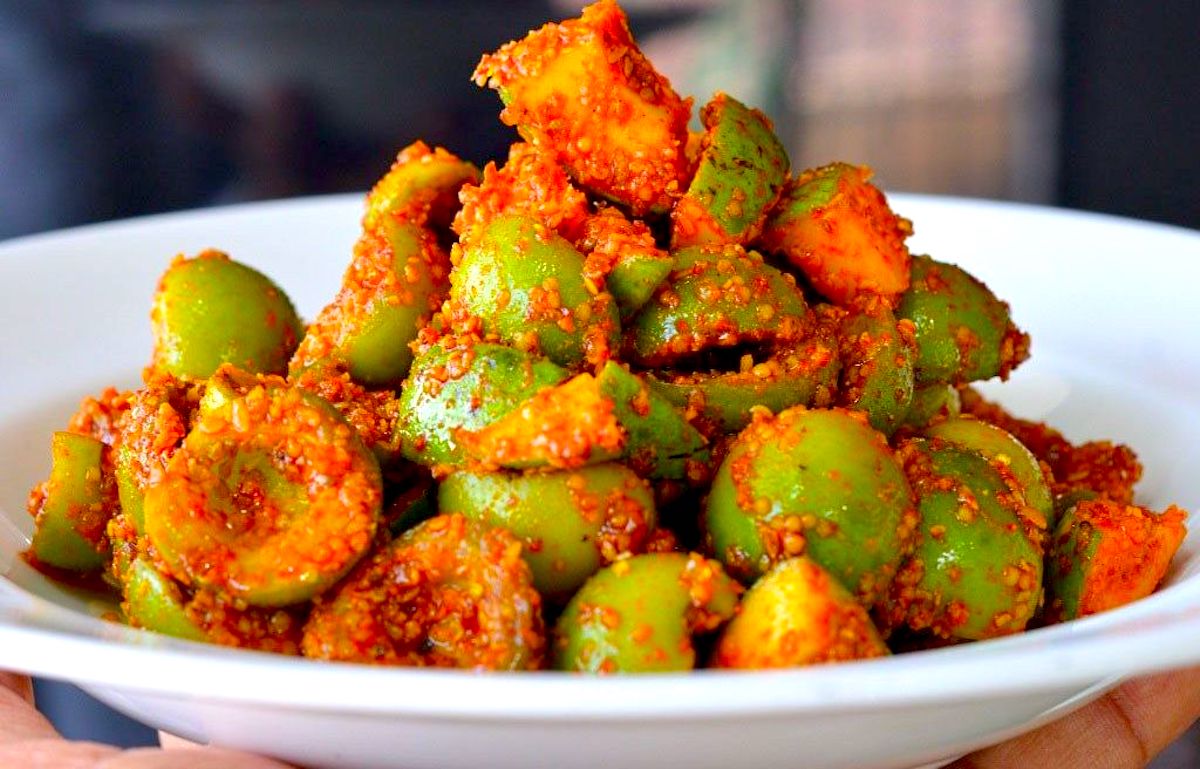 Some other finger licking food of Haryana include Kheer, Churma, Malpua, Bathua Raita & Roti, Bhura Roti Ghee etc.
Desserts of Haryana | Unique & Common Haryanvi Sweet Dishes
Delectable desserts from Haryanvi cuisine that locals love & share.
Alsi (black seed) Ke Laddu or Alsi Ki Pinni – Haryanvis also excel in making alsi (black seed) ke laddu which are made for pregnant women to ease labour pain. Alsi is warm and given to women when they are approaching pregnancy. It is very healthy and good for joints as well. These laddu are prepared with Alsi (Black or Lin Seed), whole wheat flour, ghee, sugar, nuts and cardamom powder and are unique to Haryana.
Meethe Chawal – This sweetened rice preparation is cooked with Basmati rice, raisins, cardamom, saffron, sugar and ghee and results in this mouth-watering delicious dessert. This dessert is also shared with Punjab and it is very simple to prepare, easy to cook and delicious in every bite.
Ghewar or Ghevar: Ghewar or Ghevar is a disc-shaped dessert with a honeycomb texture & is made from ghee, whole wheat flour (or refined flour) and then soaked in sugar syrup. It is served with garnishing of mawa, rabri, malai, dry fruits, kewra and also silver vark. It is traditionally associated with the month of Shravan and the Teej and Raksha Bandhan festivals. It is a much loved favourite of Haryanvi & Rajasthani cuisines. 
What are the cooking methods for Haryanvi Food?
Traditional and modern methods are both employed for cooking Haryanvi cuisine.
Kitchen Equipment for Haryanvi Cuisine – The traditional stoves and ovens used to cook Haryanvi food include:
Chulha – The traditional name of the stove in the Haryanvi language is chulha. Traditional houses also have ovens (wadda chulha or band chulha) that are made from bricks, stones, and in many cases clay.
Angithi – Angithi is a traditional brazier used for space-heating and cooking in North India. It usually generate heat from burning coal and, when in use, have glowing coal or charcoal pieces but few or no flames.
Bhatti – A masonry oven is known as a Bhatti. Outdoor cooking and grilling have many different types of Bhatti.
Tandoor – The tandoor is traditionally made of clay and is a bell-shaped oven, set into the earth and fired with wood or charcoal reaching high temperatures.
Okhal aur Moosal or Hamam Dasta and Sil Batta – Spices would be ground/ crushed with the traditional mortar and pestle (Okhal aur Moosal or Hamam Dasta) and grinding stones (Sil batta).
Handi, Degchi, Patila, Karchi, Kadai, Tawa – For cooking & serving, these iron, brass and copper utensils, believed to be beneficial for health, are still used in the North India for both ritual and utilitarian purposes.
Modern equipment – This includes pressure cooker & griddle.
More About Haryanvi Food | Haryanvi Cuisine
Dining & Eating Etiquette for Haryana
Haryanvi households follows a similar or slightly varied dining etiquette as other states in North India.
Though certain dining etiquette varies regionally, there are many practices that are common throughout North India. Family dining is an established norm in most Haryanvi families.
Bringing and sending fresh fruits, sweets and food items as gifts to family members is a common practice in North India, particularly during the spring season. Food items are distributed among neighbours as well on special occasions and as a sign to show hospitality.
Invitation for meals – Invitation to a meal or tea is generally distributed few days beforehand & denying or not turning up for the invitation for no major reason is considered a breach of etiquette.
The invited guest or elder person is given special respect and attention.
The invited guest are requested to start the meal & it is considered rude if the host starts eating without taking into account the attendance of all guests.
Table setting is done before the arrival of the guests.
Family members or any occupants within one home make sure to eat together during the dinner.
Hand washing prior to and after the dinner, lunch or brunch at any household of north India is a norm.
It is considered rude to start eating food without asking others to participate in a meal.
Use right hand for food intake and left hand for drinking water or drinks.
Chewing food with one's mouth open and burping in front of others is considered rude.
The bread is eaten with the hands. Rice and desserts are eaten with spoons. Soup spoons are used for consuming soup and forks are used for eating noodles.
Politely ask for the dish to be passed on instead of grabbing it from far across the table.
DO NOT pass on your JHOOTA (food that has been in contact with your mouth) even to your family members in front of an Indian host.
STAY CONNECTED
Connect with me directly on my Instagram and Facebook or on Pinterest.
If you like this article, you can let us know in the comments below or on social media using #gosumitup and tag @gosumitup.
I am always happy to read your feedback and if you liked the dish or if you made the dish. :)
Better still, take a picture and post it on Instagram and tag it as #gosumitup
Connect direct – You can also connect with me directly on my Instagram and Facebook or on Pinterest.
And, keep visiting us for more of such awesomeness. Do bookmark gosumitup.com into your web browser now or simply subscribe to our browser notifications.
I always  endeavour to provide you with as accurate information as possible, however I make no warranties on the completeness or accuracy of the information and/or products on this blog.
Some information will understandably change or be less accurate as time passes.
When it comes to opening hours, website addresses and restaurant addresses, please double check this information as things may have changed since writing the blog post.
I am always 100% honest in my reviews.  If I don't like something, I probably wont give it any attention on my blog and if I write about it, I'll ensure it is elaborate enough so that the business owners can make relevant change.
I never accept payments to compromise my food philosophy, so you wont see me recommending or promoting restaurants or products that go against what I believe.
I prefer to dine anonymously and pay for my own meals. I believe that provides a more truthful dining experience for me as well as my readers.
My reviews are not just about my experience, they are also a clear endorsement of what I liked and what an entity or an eatery can do better to better enhance their business. This is a moment of truth for them.
Occasionally, I may do sponsored posts as I cannot afford to spend so much time on my blog (as much as I love it, and as much as I love food) without a little something extra.
While they aren't my favorite thing to do, I really cannot afford to keep this blog running without doing the occasional sponsored post.
Something about being paid to write about a subject bothers me, but I will always be completely honest.
I never accept payments to write something that I do not agree with and I only accept sponsored posts that fit into my food philosophy so you'll never read about me recommending everything people may pay for.