Gosht Yakhni Pulao – Gosht yakhni pulao finds its origins in the Kashmiri cuisine. This signature gosht yakhni pulao recipe has succulent and tender pieces of mutton on the bone and long-grained basmati rice cooked in a flavoured mutton stock made with a carefully selected blend of aromatic whole spices. The result is a delicious, fragrant yakhni pulao, with perfectly cooked grains of rice, each one separate and fluffy and coated evenly with the gosht yakhni and ghee.
Kashmiri cuisine is known for its various meat preparations, cooked meticulously using a range of spices and flavouring agents. You find the same reflections in gosht yakhni pulao recipe too.
In a nutshell, gosht yakhni pulao is simply mutton or lamb cooked with masalas & stirred in with seasoned rice. The rice is then topped off with mutton stock and cooked.
A BIT OF HISTORY
Yakhni came to be known in Kashmir during Emperor Akbar's rule. Yoghurt-based meat curries were an integral part of the Persian cuisine. Emperor Akbar introduced this style of cooking to his new state when he annexed it in 1586. Akbar in fact influenced various regional cuisines if northern India, which have now evolved to become exclusives cuisines in their own right.
Originally Gosht Yakhni meant a light curry made with lamb meat. Over the years it has gone on to include chicken and even vegetarian versions like Paneer Yakhni.
SO, HOW IS GOSHT YAKHNI MADE?
The meat is first cooked along with a handful of spices to acquire an aromatic broth. The meat pieces are again added back to with yoghurt and left to simmer. It is  then slow-cooked for some more time to finally acquire the smooth texture with delicate meat.
The word 'yakhni' first appeared in the book 'Ain-i-Akbari' which technically is a persian journal during the time of Akbar the Great. This three volume journal throws ample light on the mughlai cuisine. Yakhni, the writer Abul Fazal wrote, was prepared by water, onion and lamb.
Yakhni dishes are also seen in Greek and Turkish cuisines, but what sets the Kashmiri Yakhni apart is the absence of tomatoes.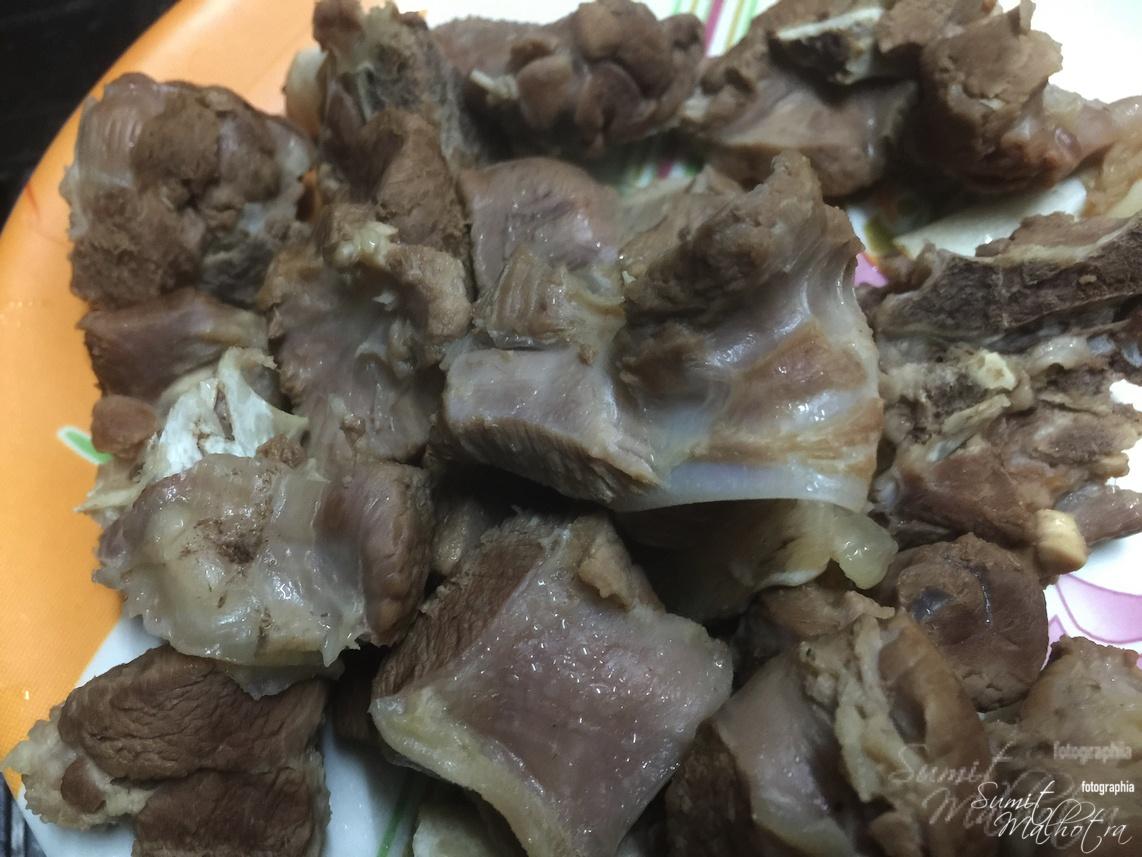 RECIPE RECOMMENDATIONS
| | |
| --- | --- |
| Cooking Tools Recommended | Recommended Ingredients |
| | |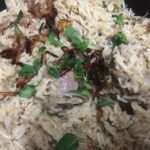 Ingredients
Gosht Yakhni Pulao, Mutton Yakhni Pulao Recipe
गोश्त यखनी पुलाओ
Gosht Yakhni Pulao, Mutton Yakhni PulaoRecipe Ingredients
what goes in?
what kinds?
how much?
For Boiling & Making Mutton Stock
Mutton
On the bone
1 Kilogram
Ghee
1 Tablespoon
Salt
To Taste
Water
6 Cups
Coriander Seeds
1/2 Teaspoons
Fennel Seeds
1 Teaspoons
Bay Leaves
2 No.
Ginger
Cut into small chunks
2 inches
Cinnamon
1 inch
Cloves
7-8
Cardamom
5-6
Onions
Medium Size; Sliced
1 No.
For Making Mutton Yakhni Pulao
Shahi Jeera
1/2 Teaspoon
Cinnamon
1 Inch
Bay Leaves
2 No.
Cloves
5-6 No.
Black Peppercorns
10 No.
Onions
Medium Sized; Sliced
2 No.
Ginger
Paste
1 Tablespoon
Garlic
Paste
1 Tablespoon
Mint Leaves
For garnishing
1 Tablespoon
Curd
1 Cup
Garam Masala
1 Teaspoon
Green Chillies
4 No.
Kewra Water
1.5 Teaspoon
Sugar
1/2 Teaspoon
Ghee
4 Tablespoon
गोश्त यखनी पुलाओ के लिए सामग्री
सामग्री
किस प्रकार की 
कितनी 
गोश्त को उबाल के शोरबा बनाने के लिए 
गोश्त
हड्डी वाला
१ किलो
घी
१ बड़ा चमच
नमक
स्वादानुसार
पानी
६ कप
खड़ा धनिया
१/२ चोटा चमच
सौनफ
१ चोटा चमच
तेज पत्ता
२ नग
अदरक
छोटी कटी हुई
२ इंच
डाल चीनी
१ इंच
लौंग
७-८ नग
हरी इलाइची
५-६ नग
प्याज़
Medium Size; Sliced
१ नग
गोश्त यखनी पुलाओ के लिए 
शाही जीरा
१/२ (आधा) चोटा चमच
दालचीनी
१ इंच
तेज पत्ता
२ नग
लौंग
५-६ नग
खड़ी काली मिर्च
१० नग
प्याज़
मध्य; लम्बा कटे हुए
२ नग
अदरक
पेस्ट
१ बड़ा चमच
लहसुन
पेस्ट
१ बड़ा चमच
पुदीना
सजाने के लिए
१ बड़ा चमच
दही
१ कप
गरम मसाला
१ चोटा चमच
हरी मिर्च
४ नग
केवरा
डेढ़ चोटा चमच
चीनी
आधा चोटा चमच
घी
४ छोटे चमच
Instructions
Gosht Yakhni Pulao, Mutton Yakhni Pulao
गोश्त यखनी पुलाओ बनाने की विधि
The Process to make Gosht Yakhni Pulao, Mutton Yakhni Pulao
Get your ingredients ready.
Wash and dry the mutton. Clean and soak 2 cups of basmati rice. Fry one medium onion till golden brown and keep aside.
Heat ghee to a stew pot and saute 1 kg of mutton chunks on the bone.
Add 1.5 teaspoons of salt and fry for 5 minutes.
Add 6 cups of water.
Make a potli (bouquet garni) with muslin cloth with coriander seeds, fennel seeds, bay leaves, ginger chunks, cinnamon, cloves, cardamom and roughly chopped onion. Tie it up firmly.
Immerse this potli into the stew pot with mutton and water.
Cook covered for one hour.
Remove the bouquet garni (potli) and separate mutton from the yakhni stock.
Measure the remaining stock. You should be around 4 cups remaining.
Clean the stew pot and heat 4 tablespoons of ghee.
Add 1.5 teaspoons of shahi jeera, cinnamon, bay leaves, cloves, black pepper and saute till they are fragrant.
Now add 2 medium-sized sliced onions and cook until light brown.
Now add 1 tablespoon each of ginger and garlic paste.
Add the boiled gosht (mutton) and fry for a couple of minutes.
Then add 1 cup of curd and 1/2 teaspoon of sugar.
Mix well and cook for 5 minutes.
Add green chillies and garam masala.
Mix well and add two cups of soaked rice.
Mix well for a couple of minutes and then add reserved 4 cups of mutton stock.
Add 1 teaspoon of kewra water and salt to taste.
Boil the rice and then lower the heat to minimum-till cooked.
Garnish gosht yakhni pulao with mint leaves and fried onions. Add 1/2 teaspoons of kewra water now.
Serve hot.
गोश्त यखनी पुलाओ ऐसे बनाएँ
अपनी सामग्री तैयार करें।
मटन को धोकर सुखा लें।
2 कप बासमती चावल को साफ करके ३० मिनट भिगोएँ।
सुनहरा भूरा होने तक एक मध्यम प्याज भूनें और एक तरफ रखें।
एक स्टू बर्तन में घी गरम करें और मटन डालें।
1.5 चम्मच नमक जोड़ें और 5 मिनट के लिए भूनें।
6 कप पानी डालें।
धनिया के बीज, सौंफ के बीज, बे पत्तियों, अदरक के टुकड़े, दालचीनी, लौंग, इलायची और मोटे तौर पर कटा हुआ प्याज के साथ मलमल के कपड़े से एक पोटली  बनाएं और बांध लीलिए।
मटन और पानी के साथ इस पोटली को स्टू पॉट में डुबोएं।
ढक कर एक घंटे के लिए पका लीजिए।
पोटली निकालें और यखनी स्टॉक से मटन को अलग करें।
शेष स्टॉक को मापें। आपको लगभग 4 कप शेष रहना चाहिए।
स्टू पॉट को साफ करें और 4 बड़े चम्मच घी गर्म करें।
1.5 चम्मच शाही जीरा, दालचीनी, तेज पत्ता, लौंग, काली मिर्च को सुगंधित होने तक मिलाएं।
अब 2 मध्यम आकार के कटे हुए प्याज़ डालें और हल्का भूरा होने तक पकाएँ।
अब अदरक और लहसुन पेस्ट में से प्रत्येक में 1 बड़ा चम्मच डाल दीजिए।
उबला हुआ गोश्त (मटन) डालें और एक-दो मिनट भूनें।
फिर 1 कप दही और 1/2 चम्मच चीनी मिलाएं।
अच्छी तरह से मिलाएं और 5 मिनट तक पकाएं।
४ हरी मिर्च और गरम मसाला डालें।
अच्छी तरह मिलाएं और दो कप भिगोए हुए चावल डालें।
कुछ मिनट के लिए अच्छी तरह से मिलाएं और फिर मटन स्टॉक के आरक्षित 4 कप जोड़ें।
स्वाद के लिए 1 चम्मच केवड़ा पानी और नमक डालें।
चावल को उबालें और फिर कम से कम पकाएं।
गोश्त यखनी पुलाव को पुदीने की पत्तियों और तले हुए प्याज से सजा लीजिए और 1/2 चम्मच केवड़ा पानी डालें।
गर्म - गर्म परोसें।
Notes
Always buy fresh meat of a smaller animal for this.
You can always use a pressure cooker to make this faster.
ARE GOSHT YAKHNI PULAO AND GOSHT BIRYANI THE SAME?
No, actually they are not. The distinction is made by the way they are cooked. A Pulao is a dish where we cook the meat/vegetables along with the rice without any layering. On the other hand, in a biryani, there are alternate layers of rice and meat. And we semi cook the rice (boil the rice) before the layer.
Biryanis are often Dum and has the flavoured and cooked rice. While in yakhni pulao recipe, the rice is uncooked and just soaked in water. Here, we cook rice together with spices, meat and curd.
I know, many people get confused with the term biryani and pulao, as both of them are rice oriented delicacy, seasoned with fried onions, coriander and mint leaves.
SERVING SUGGESTIONS FOR GOSHT YAKHNI PULAO RECIPE
This tempting combination of mutton yakhni pulao is best served with mixed vegetable raita and people of all age groups will love it. Nothing more is needed.
Some More Pulao Recipes - With Chicken
TO SUM IT UP
Gosht Yakhni Pulao or Mutton Yakhni Pulao is a traditional pulao recipe preparation of long grain basmati rice cooked in aromatic spiced mutton stock with delicious melt in your mouth meat. Its a must have so go for it.
STAY CONNECTED
If you like this recipe, you can let us know in the comments below or on social media using #gosumitup and tag me @gosumitup. I am always happy to read your feedback and if you liked the dish 🙂
You can also connect with me directly on my Instagram and Facebook or on Pinterest.
And, keep visiting for more of such awsomeness.