Thai Chicken in Green Curry Recipe or Gang Kiew Wan Gai Recipe - Creamy & Delicious
Also known as Green Curry Chicken, Thai Green Curry Chicken, Thai Green Chicken Curry, Gang Kiew Wan Gai
Thai Chicken in green curry recipe or Gang Kiew Wan Gai recipe is a real classic. This Thai green chicken curry recipe is easy and delicious, perfect for a quick lunch or dinner.
This easy green curry is made with chicken, coconut milk, fresh herbs, and lime. You'll have a stunning Thai chicken in Green Curry to admire, smell, and taste!
Thai Chicken in Green Curry is great and delicious for quick weeknight dinners. It is super fragrant, and guaranteed to warm you up with its spicy creamy deliciousness! It is also extremely easy to make and naturally gluten-free and dairy-free.
Feel free to customize it and make it vegetarian (or vegan) by adding your favourite vegetables. Or, you can use your favourite protein (tofu shrimp, pork, beef, etc.).
One of my absolute favourite Thai dishes is Thai Green Chicken Curry. But I hardly ever order it at restaurants because it's super easy to make at home. I rather try other dishes that aren't my speciality while dining out!
To be honest, I love all types of Thai curries. Give me creamy spicy Penang curry, bold and bright Red curry, or peanutty cream-y-licious Massaman curry and I'm a happy bunny!
But I have a super soft spot for Thai green curry because of its killer sweet fragrance and the fact that it's spicier than most other Thai curries. 😍
WHAT IS THAI GREEN CURRY?
I think anyone that has tried Thai food knows what Thai green curry is. You've probably seen it on menus at Thai restaurants and possibly have even ordered it.
But for those who need a little info, it's a curry that's spicy and sweet and made with Thai green curry paste. The curry paste gets its green colour from cilantro stems and roots as well as green chillies.
But it's also made up of other ingredients such as kaffir lime peel, lemongrass, galangal, coriander seeds, garlic, black peppercorns, and shrimp paste.
These ingredients are all smashed together in a mortar with a pestle to form a green curry paste. Protein is added, chicken, in this case, to make Thai Chicken in Green Curry.
And, it is Thai chicken in green curry is spicy – it's meant to be! Thai Green Curry Paste is spicier than the other two popular Thai curries – Thai Red Curry and Massaman Curry.
THAI CHICKEN IN GREEN CURRY RECIPE RECOMMENDATIONS
| | |
| --- | --- |
| Cooking Tools Recommended | Recommended Additions |
| | This recipe uses coconut milk |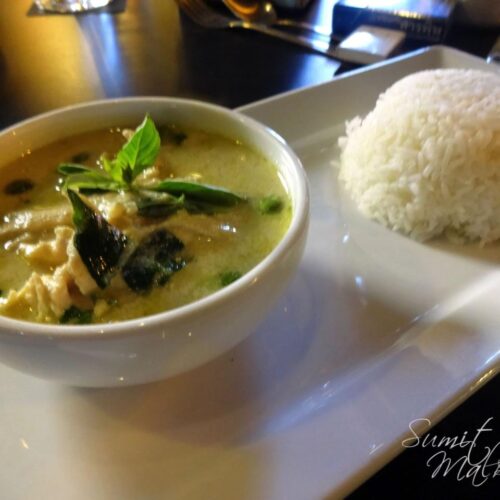 Thai Chicken in Green Curry - Creamy & Delicious
Ingredients
2

tbsp

Cooking Oil

70

gram

Green curry paste

store-bought or homemade

1

tbsp

Ginger-Garlic Paste

400

ml

Coconut milk

250

gram

Chicken thigh

boneless, skinless, cut into 1-inch pieces

30

gram

Thai Pea Aubergine

1/2

cup

Button Mushrooms

Cut into halves

8

Number

Cherry tomatoes

50

gram

Baby corn

Halved

1

tbsp

Fish sauce

1

tbsp

Palm Sugar

can substitute brown or granulated sugar

1

bunch

Fresh basil

7

number

Kaffir Lime Leaves

roughly torn
Instructions
Heat 1 tbsp of cooking oil in a saucepan on high heat nd saute ginger and garlic paste.

Add the green curry paste and stir-fry it for a couple of minutes before adding 1 tbsp coconut milk.

Add the diced chicken breast into the same pan. Stir-fry to coat the chicken with the paste.

Add the remainder of the coconut milk and then bring to the boil.

Add the kaffir lime leaves, eggplants, tomatoes, baby corn, mushrooms, fish sauce and palm sugar. Simmer the contents of the pan until they're cooked through.

Serve your green chicken curry hot with a serving of steamed white rice and dress with a small handful of fresh basil.
Notes
Use any proteins/vegetables you want as long as they are suited to be simmered and the cooking time. The sauce needs to be simmered for 13 - 15 min to get the right flavour and thickness.
Some suggestions:
* Vegetarian - Asian eggplant, green beans, zucchini. Other vegetables that go well: broccoli, cauliflower, asparagus, carrots, sweet or normal potato, pumpkin, mushrooms (cook to soft, great sponge!)
* Prawns/shrimp or fish pieces instead of chicken - add towards the end, 3 to 5 min cook time
Chicken - thigh is best because it'll stay juicy with the prescribed simmering time. If using breast, let the sauce simmer for 5 minutes before adding it.
Kaffir Lime Leaves - find them in major supermarkets and Asian grocery stores. They freeze super well for months and months. Adds earthy citrus flavour (not sour). The best sub is to use a lemongrass.
Step by Step - Thai Chicken in Green Curry Recipe
CHICKEN IN THAI GREEN CURRY RECIPE – IMPORTANT RECIPE NOTES
The key to good chicken in Thai green curry recipe is in not only using the right ingredients but also knowing when to add them.
To allow for faster cooking use smaller pieces of chicken.
When taste-testing, add 1 to 2 tablespoons fish sauce if not salty or flavourful enough.
If you'd prefer a sweeter curry, add a little more sugar to the chicken in Thai green curry recipe.
If too salty, add a squeeze of lime or lemon juice.
If too spicy, add some more coconut milk.
This curry should be a balance of salty, spicy, sweet, and sour.
CAN I MAKE A VEGETARIAN THAI GREEN CURRY?
Yes! Simply avoid the chicken and add more vegetables of your choice with mushrooms and potato. You can add beans, peas, sweet potatoes and egg plants. Avoid the fish sauce and use light soy instead.
The great thing about curries, which is totally different in this context than 'curry powder' and here I mean of mixture of vegetables and protein in a sauce, is that you can add whatever vegetables or legumes you like.
FINALLY, TO SUM IT UP
Don't call the local takeaway – impress friends and family by cooking this fragrant and creamy Thai green chicken curry or Gang Kiew Wan Gai. It's easy and quick to make.
This Thai chicken in green curry recipe or Gang Kiew Wan Gai is easy and delicious, perfect for a quick lunch or dinner.
STAY CONNECTED
If you like this article, you can let us know in the comments below or on social media using #gosumitup and tag me @gosumitup. I am always happy to read your feedback and if you liked the dish or if you made the dish. :)
Better still, take a picture and post it on Instagram and tag us as #gosumitup
Connect direct – You can also connect with me directly on my Instagram and Facebook or on Pinterest.
And, keep visiting us for more of such awesomeness. Do bookmark gosumitup.com into your web browser now or simply subscribe to our browser notifications.