Chicken Curry Rozmarra - Easy Indian Household Chicken Curry
Chicken Curry Rozmarra is also known as - chicken curry, chicken, chicken masala, dhaba style chicken curry
Chicken curry has succulent chunks of chicken simmering leisurely in a spicy gravy, sending off an inviting aroma that just cannot be ignored. Chicken curry is the ultimate crowd pleaser and an absolute must-have on an Indian dinner menu. If Indians would have a chicken curry daily, this is what they'd have.
If your definition of comfort food is chicken curry and rice then you will know the importance it holds among millions and millions of people.
Whole spices like bay leaf, black cardamom, black pepper, cinnamon sticks and cloves are added to give it the rich spice flavour to the chicken curry.
You will find this curry at practically all the dhabas (roadside eateries) in North India. Hence, you can also call it dhaba style chicken curry.
Economical and tasty, this dish gives you a taste of simple Punjabi home cooking. This is one of the easiest chicken curry recipe that even a beginner or a bachelor can cook with a deeply satisfying outcome.
It not only tastes delectable but is also full of flavours in the tender & succulent pieces of chicken.
This chicken curry recipe comes together in just under an hour. It is an excellent way to add some versatility to your weeknight dinner spread. And it's primarily comprised of ingredients you probably already have on hand—chicken, tomatoes, onions, ginger, garlic, and some regular Indian spices.
This simple Indian chicken curry is made in the style common to the dhabas on the North Indian highways, all the way from Jaipur to Amritsar. And, not to forget the chicken curry tales from Rajinder Da Dhaba.
What kind of chicken should I use for dhaba style chicken curry?
Using bone-in chicken lends the meat a richer, gamey flavour. That is in keeping with how this dish was traditionally made, using free-roaming birds.
A generous hand with spices, including turmeric, coriander, cumin, and cinnamon, plus plenty of chillies, leaves this dish intensely flavorful and fiery.
You can also make this curry with boneless chicken. But bone-in chicken yields the best curry as the juices from the bones mix with the curry making it richer in flavour.
Most traditional Indian households use the whole chicken that is cut to more or less equal sizes. A typical curry cut divides a broiler chicken into 12 pieces.
The curry is made with all the pieces of chicken including thighs, breasts etc. But if you are choosy you can use whatever you like. This works very well.
Is this the standard chicken curry recipe?
Chicken or Murgh curry, though finds its origins in India, is now a commonly found entree globally. That is why there is no standard recipe to make it. Even in India, there are many variations to this recipe because of cultural/regional influence that no two recipes are alike. And, then there is the Cook's hand too.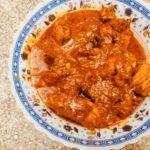 Ingredients
| | | | |
| --- | --- | --- | --- |
| No. | Ingredients | What Kinds? | How much? |
| 1 | Chicken | | 1 Kilo |
| 2 | Lemon | For the marinade | 1 No. |
| 3 | Red Chilli Powder | Kashmiri; For the marinade | 1 Teaspoon |
| 4 | Garam Masala Powder | For the marinade | Half Tablespoon |
| 5 | Salt | For the marinade | Half Teaspoon |
| 6 | Ghee | | 2.5 Tablespoons |
| 7 | Bay Leaf / Tej Patta | | 1 No. |
| 8 | Onions | Medium size, make a paste | 4 No. |
| 9 | Tomatoes | Medium size, make a paste | 4 No. |
| 10 | Garlic | Finely chopped | 10 Pods |
| 11 | Ginger | Finely chopped | 1 Inch |
| 12 | Red Chillies | Dry | 4 No. |
| 13 | Cloves | Pounded | 5 No. |
| 14 | Black Cardamom | Pounded | 2 No. |
| 15 | Black Peppercorns | Pounded | 10 - 12 No. |
| 16 | Cinnamon | | 1 Inch |
| 17 | Red Chillies | Dry | 4 No. |
| 18 | Turmeric powder | | Quarter Teaspoon |
| 19 | Coriander powder | | 1 Tablespoons |
| 20 | Garam Masala Powder | | Half Tablespoons |
| 21 | Red Chilli Powder | Kashmiri | 1 Teaspoon |
| 21 | Kasoori Methi | Crushed | 1 Tablespoon |
| 22 | Salt | | To Taste |
Instructions
Get your ingredients ready.
Marinate the chicken with lemon juice, ginger & garlic paste, garam masala, Kashmiri red chilli powder and salt.
Leave it in the refrigerator for an hour at the least. 2 hours is better.

For the dhaba style chicken curry, heat ghee in a heavy-bottomed pot.

Once the ghee is hot, add crushed cloves, black peppercorns, cinnamon, black cardamom and dry red chillies and let them crackle till you can smell their fragrance.
Add minced onions and fry until slightly brown.
Add finely chopped ginger and garlic and fry until onions are dark brown.
Now add the chicken along with the marinade and cook on high heat for five (5) minutes.
Next, add tomatoes and cook for another five (5) minutes on high heat.
Add a cup of water for a lean or half a cup for a thick curry and bring it to a boil.

Simmer the flame and, add coriander powder, turmeric powder, Kashmiri red chilli powder and salt to taste and cover and cook until chicken is done. 

Add garam masala powder and kasoori methi and cook for another minute.
Serve dhaba style chicken curry hot with jeera rice.
Step by Step Recipe - Dhaba Style Chicken Curry - Visually
Marinating the chicken makes it juicy and more flavourful.
Ensure you cook the onions till they are evenly browned. Caramelized onions add an extra oomph to this dish.
If the onions start to stick which may happen once you add ginger and garlic, add a little water and deglaze.
The perfect pairing is with some jeera rice or tandoori rotis, parathas or some fluffy naans. Check how to cook jeera rice and make yourself a perfect fluffy bowl of the good stuff.
FINALLY, TO SUM IT UP
This dhaba style chicken curry is hot & fragrant. It is easily made with ground spices, onions and tomatoes. It is perfect for a family lunch or dinner over which you can reminisce! You'll remember it as an irresistible chicken curry that offers a little heat, and a lot of delicious flavours.
STAY CONNECTED
If you like this article, you can let us know in the comments below or on social media using #gosumitup and tag me @gosumitup. I am always happy to read your feedback and if you liked the dish or if you made the dish. 🙂
Better still, take a picture and post it on Instagram and tag us as #gosumitup
Connect direct – You can also connect with me directly on my Instagram and Facebook or on Pinterest.
And, keep visiting us for more of such awesomeness. Do bookmark gosumitup.com into your web browser now or simply subscribe to our browser notifications.