Cloves are the aromatic flower buds of a tree in the family Myrtaceae, Syzygium aromaticum. They are native to the Maluku Islands in Indonesia and are commonly used as a spice.
They form an essential element in ayurvedic treatments since the health benefits of cloves are immense.
CLOVES AS AN AYURVEDIC ELEMENT
In Ayurveda, cloves are considered to be boosters for blood circulation, digestion and metabolism.
One of the most important health benefits of cloves. They help counter stomach disorders such as gas, bloating and nausea.
The essential oil of clove is used as an active ingredient in oral hygiene products to promote tooth health and freshen the breath.
An interesting fact about clove is, while it is hot in taste, it is cooling in its trait. From the ayurvedic perspective, laung or cloves have great medicinal importance for the treatment of various ailments.
This herb has soothing and cooling effects on the stomach. Use of this herb is good for the morning sickness of pregnant women. And, these are just a few health benefits of cloves.
Cloves contain the Eugenol which adds up to 70% to 90% of the clove oil constituent. Eugenol is just one part of the health benefits of cloves.
CLOVES IN CULINARY SPHERE
Laung or Cloves are best known for their powerful aroma that can add intense warmth to any dish they are added to.
Cloves are a popular spice around the world and are used in a wide range of international cuisines.
The easiest way to harness the health benefits of cloves is to add it to your daily food intake.
Although cloves are available in both whole and ground form, culinarily cloves are preferred whole, as the whole bud contains far more flavour and aroma prior to being ground.
This versatile spice is used to season pot roasts, add flavour to hot beverages, and bring spicy warmth to cookies and cakes.
Cloves can be used with other spices to create a number of spice blends for meats, curries and meat marinades. Cloves are popular in Asian, African and Middle Eastern cooking and are often used in the above dishes.
Clove powder can be added to other ingredients to make pickles, sauces and chutneys.
They are an integral part of the Chinese Five Spice as well as the Indian Garam Masala. Clove powder is also one of the main ingredients of the world-famous Worcestershire sauce.
Cloves are known to battle for good circulation and digestive disorders, to deal with headaches, & even to freshen breath. These are just a few health benefits of cloves.
HEALTH BENEFITS OF LAUNG OR CLOVES | LAUNG KE FAYADE
Prized for their healing qualities health benefits of laung or cloves bring it to almost a daily use in our lives. Cloves and their essential aromatic oil have immense health benefits and therapeutic values.
Did you know: Even the chewing gum manufacturer Wrigley uses the spice in one of its products.
Read on to find out what health benefits of cloves or laung are:
For nutrition – Cloves contain fibre, vitamins, and minerals, so using whole or ground cloves to add flavour to your food can provide some important nutrients. They are a proven source of Maganese (instrumental for the brain's health) as well as Vitamin K.
Dental wellbeing – Considering the benefits of Syzygium aromaticum, in many dental products cloves are being included. The use of cloves in relieving toothache is a well-known home remedy.
Multiferous – Because of their antibacterial, anti-fungal and antiseptic benefits, cloves are used in Ayurveda, Chinese & Tibetan medicine.
Aids digestion – cloves has shown to improve digestion. They help to relax the lining of the gastrointestinal tract, further it helps in curing diarrhoea, vomiting etc.
Help protect against cancer – Clove extract helps stop the growth of tumours and promote cell death in cancer cells. The eugenol found in cloves has also been shown to have anticancer properties. A very significant health benefits of cloves.
In liver health – Mixtures made with cloves have helped improve liver function, reduced inflammation, and decreased oxidative stress. Moreover, eugenol found in cloves helped reverse signs of liver cirrhosis or scarring of the liver.
Regulates blood sugar – Clove extracts and nigericin compound collaboratively were found to increase the uptake of sugar from the blood into cells, increase the secretion of insulin, and improve the function of cells that produce insulin
Improve bone health – Manganese is a mineral that's involved in the formation of bone and incredibly important to bone health. It is abundantly found in cloves (almost 40%).
Stomach care – Essential oil from cloves was shown to increase the production of gastric mucus. Gastric mucus functions as a barrier and helps prevent erosion of the stomach lining from digestive acids. This a very important health benefits of cloves.
Respiratory benefits – Respiratory health benefits of cloves help relieve upper respiratory infections. It helps in the prevention of cold and flu. Cloves acts as a natural painkiller and kills germs too. Such health benefits of cloves may help you in coronavirus prevention as well.
Anti-inflammatory – Cloves extracts reduce inflammations. Cloves oil help in massaging sore muscles and some herbal medicines also use it for treatment of arthritis and rheumatism.
Clove is widely cultivated in Tanzania, Indonesia, Madagascar, India, Malaysia, Sri Lanka, and South America with Tanzania being the largest commercial cultivator. A pinch of cloves powder is enough to overpower any dish, so you need to be careful while using it.
Clove powder is indispensable in 'masala chai,' a spicy Indian tea which also contains cardamom, cinnamon, ginger, black peppercorn and black tea. It is also incorporated in garam masala, an Indian culinary spice used in curries, containing turmeric and a variety of other spices.
In other countries, it is mainly used as a flavouring in various baked goods such as gingerbread. Interestingly, cloves are not used much for cooking in their native homeland of the Molucca Islands, but rather are extremely popular as cigarettes – Gudang Garam being one.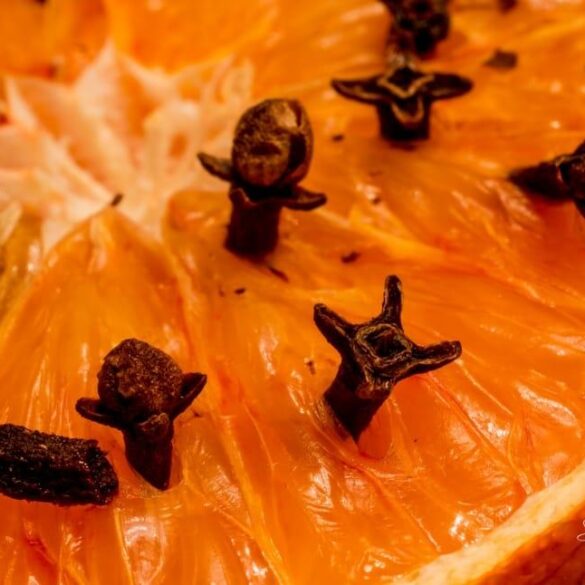 Cloves - How to Make Cloves Powder | The Strong Bitter Sweet Spice
Clove Powder has a sweet and slightly bitter taste that is optimal for baking or in savoury cooking. You can add clove powder to spice seasoning mixes for baking or for savoury cooking such as soups, stews, and braises. You can add cloves to your spice seasoning blends like Garam Masala and meat rubs.
Ingredients
2

Cup

Cloves (Laung or Lavanga)
Instructions
Put a non-stick frying pan on the flame.

Maintain the heat on medium.

Add half of the cloves (1 cup) to the heated pan.

Dry roast the cloves stirring regularly.

When the cloves start releasing their fragrance, get them off the pan.

Cool them down completely then transfer to a clean mixer-grinder dry grinder jar.

Grind to a fine powder (this may take up to two iterations).

Store in an airtight container, preferably a glass container.
Notes
If available try and use unripe clove buds of organic nature.
After grinding, clove powder is likely to loose flavour if stored for a long time.
Try integrating a few servings of cloves per week into your meals.
STAY CONNECTED
If you like this article, you can let us know in the comments below or on social media using #gosumitup and tag me @gosumitup. I am always happy to read your feedback and if you liked the dish or if you made the dish. 🙂
Better still, take a picture and post it on Instagram and tag us as #gosumitup
Connect direct – You can also connect with me directly on my Instagram and Facebook or on Pinterest.
And, keep visiting us for more of such awesomeness. Do bookmark gosumitup.com into your web browser now or simply subscribe to our browser notifications.