Immunity Booster Spices | Spices that Boost Your Immunity
Immunity booster spices that you all know a bit. They are ever-present in your kitchen spice cabinets.
Yajur-Veda has mentioned these for their health prowess. Traditional medicines and not just Indian but also Chinese, Tibetan have used these immunity booster spices that boost your immunity for centuries.
This is proven since long since actively these spices boost immunity and their use today may come in handy in coronavirus prevention. So read on & boost your immunity with these basic immunity booster spices for coronavirus prevention.
The Coronavirus or COVID-19 is currently affecting 212 countries and territories around the world and 2 international conveyances. It is imperative that we find easy mechanisms for coronavirus prevention.
At the time of publishing of this article 4,101,975 were infected and 280,451 had lost their lives.
What is more important is to know that a sum total of 1,441,873 fellow beings have recovered as well. Hence, fighting this outrageous infection is the need of the hour by boosting your and your family's immunity.
This can be achieved if you take care of your health and follow the necessary precautions. We can start with something as simple as immunity booster spices that are easily available at home. The moot point is to bring them into your daily consumption to build effective coronavirus prevention for you and your family.
These preventive health measures and immunity booster spices are with special reference to your respiratory health. This fact is supported, endorsed & prescribed by Ayurvedic literature and scientific publications.
Several spices can boost your immunity. This is because they have immuno-modulating effects. The best part is that they are easily available in your kitchen. Presently, there are no other known options to counter the onslaught of the coronavirus. Increasing your own immunity being one simple factor for coronavirus prevention.
So, it is just the time when all of us can take these immunity booster spices & stay safe.
Immunity booster spices not only help you in staying safe from seasonal flu but they may also help against coronavirus due to their anti-viral properties.
So, the risks of coronavirus (COVID-19) can be mitigated by using these spices on a daily basis. Because of this pandemic, various countries across the world have been locked down due to severe infestation and infection.
Hence, enhancing the body's natural defence system (immunity) plays an important role in maintaining optimum health.
I have drawn up a list of immunity booster spices below with their benefits in brief that will help you bolster your and your family's immunity.
Some of these immunity booster spices and their use is also being endorsed by the Ministry of Ayush – Government of India. Being immunity boosters, they can help in coronavirus prevention. Do give it a serious look and consider their use appropriately.
Stay safe and keep your family safe. Spread your kindness & help your friends stay safe too by sharing this article with them. Thanks :-)
Turmeric or Haldi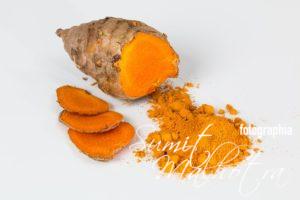 We have used turmeric in India for thousands of years as a spice and medicinal herb. Turmeric is a natural anti-inflammatory thanks to a compound it contains called curcumin.
In some medical studies, curcumin has been shown to reduce the activity of toxins that create inflammation. This makes it one of the notable immunity booster spices.
It also inhibits the activity of inflammatory enzymes, and curcumin may even prevent the activation of inflammation-causing proteins.
Curcumin has exhibited antiviral properties against several viruses, including dengue virus and hepatitis C virus, among others. It can be a major factor in coronavirus prevention.
Turmeric is able to break down mucus. This makes it easier for your body to remove the mucus from its airways. The breakdown and removal of mucus help in relief from coughing and improve your ability to breathe.
Cumin Seeds or Jeera
Cumin or Jeera is an indispensable spice to the Indian kitchen. It is also a popular ingredient in South Asian, North African and Latin American cuisines. Compounds cuminalldyhde and cuminic alcohol give cumin seed its distinctive, strong flavour.
The oils of cumin seeds make it a great anti-congestive. They work by acting as an expectorant – they eliminate accumulated phlegm and mucus from the upper respiratory tract through coughing and sneezing.
They are also good disinfectants and help fight viral infections like the common cold. Cumin also contains Vitamin C which boosts our immune systems and defends us from toxins and, thus, infections making them one of immunity booster spices.
Cumin seeds have umpteen antiviral and antibacterial properties that can keep mild flu, cold and cough at bay making them relevant in coronavirus prevention.
Coriander Seeds or Sookha Dhaniya
Coriander seeds are one of the oldest immunity booster spices in the world. They have been used for around 7000 years. The green leaves of coriander are also commonly known as cilantro.
Both coriander leaves and aromatic coriander seeds are used in curry-based dishes, several ethnic dishes, soups, pickled vegetables, cooked vegetables, bread and stews.
Coriander seeds offer antioxidant compounds like linalool that prevent cellular damage caused by free radicals and fight inflammation in the body.
Compounds as terpinene and quercetin may have anticancer, immune-boosting and neuroprotective effects as per lab studies. It is an effective remedy for respiratory ailments making them an effective immunity booster spices.
Coriander exhibits antimicrobial effects that may help fight foodborne illnesses and pathogens like Salmonella. This may find its use in coronavirus prevention as an immunity booster.
Garlic or Lehsun
Garlic is one of those spices that always make it to the top of your grocery list. Garlic gives your food a strong, pungent and ravishing flavour whether it is raw, chopped or just pressed.
Garlic pairs well with just about everything – tomatoes, onions, chicken, cottage cheese, butter, fish, prawns, mutton and even white wine.
Garlic is known to be a wonder drug for respiratory problems as it helps prevent ailments ranging from the common cold, flu, asthma, bronchitis, tuberculosis to pneumonia. Regular use of garlic can strengthen your immunity, which is crucial for fighting coronavirus (CoVID 19) deadly disease.
Garlic contains a compound known allicin. Allicin is beneficial to the immune system and circulatory system. When Allicin converts into other sulphur compounds, it gives garlic its medicinal properties. These compounds eventually boost your defence mechanism.
Fresh, raw garlic has proven itself since ancient times as an effective killer of bacteria and viruses. Once again, we can thank allicin.
Garlic may also help in combatting the most common symptoms of COVID 19 which are fever, running nose and cough and may favour coronavirus prevention.
Cloves or Laung
Clove is another common spice that is one of majorly incredible immunity booster spices. It is used in Ayurvedic remedies for cough and cold. Cloves work well to shield your body against infections.
While you can use it in gravies, you should also include it in making your tea or even coffee. I usually pound it with cardamom and add it to my morning Moka pot brew.
Did you know? Cloves are actually dried buds of Syzygium aromaticum tree, an evergreen that grows up to about 30 feet
Cloves have high amounts of eugenol, a compound with both anti-inflammatory and anti-viral properties. Eugenol can help your body deal with infections and inflammation. It also contains kaempferol and rhamnetin, flavonoids that share the same properties as eugenol.
Cloves also act as an expectorant. They can help reduce inflammation and expel mucus. It helps reduce coughing fits by soothing the throat.
The essential oil of clove is known to exhibit antioxidant, anti-inflammatory, antimicrobial, antifungal, antiviral, anticancer, cytotoxic, insect repellent, and anaesthetic activities. This makes it worthy of boosting our immunity and help us in coronavirus prevention.
Cinnamon or Dal Chini
Cinnamon has been used as an ingredient throughout history. It dates back as far as Ancient Egypt.
It used to be rare and hence valuable. In those times it was regarded as a gift fit for kings. its significance of being an important immunity booster spices has been long known.
Did you know? cinnamon is made by cutting the stems of cinnamon trees? The inner bark is then extracted and the woody parts removed. This bark when dried curls up into cinnamon sticks.
Cinnamaldehyde, one of the main active components of cinnamon, may help fight various kinds of infection. Cinnamon oil has been shown to effectively treat respiratory tract infections caused by fungi. Cinnamon can also inhibit the growth of certain bacteria. And is widely used in Ayurveda to treat diabetes in India.
In addition to being an antioxidant, anti-inflammatory, antidiabetic, antimicrobial, anticancer, lipid-lowering, and cardiovascular-disease-lowering compound, cinnamon has also been reported to have activities against neurological disorders, such as Parkinson's and Alzheimer's diseases.
No wonder it is one of an important immunity booster spices.
A preliminary study out of Touro College in New York suggests that household cinnamon may possess antiviral effects and help prevent coronavirus infection in humans.
Black Pepper or Kali Mirch
Black pepper grows in India and other tropical Asian countries. Black pepper is one of the most commonly used spices in the world.
Black pepper contains a chemical called piperine. This chemical seems to have many effects on the body. It seems to reduce pain, improve breathing, and reduce inflammation.
Black pepper also contains terpenoids like alpha-pinene, sabinene, beta-caryophyllene, delta-3-carene, limonene and beta-pinene which are known to be immunity boosters and may be instrumental in coronavirus prevention.
Did you know? Black pepper is made by cooking the dried unripe fruit. White pepper is made by cooking and drying the ripe seeds.
Piperine is also important for the absorption of curcumin in our bodies. Curcumin by itself is poorly absorbed into the bloodstream. It helps to consume black pepper with it. Piperine in black pepper enhances the absorption of curcumin by 2,000%.
In a nutshell, you should try and use both immunity booster spices – turmeric and black pepper together.
Ginger or Adrak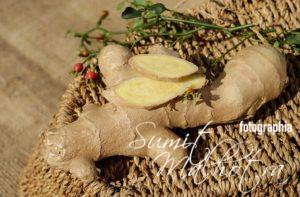 Ginger has been used for 2,500 years as a healing root. There are many benefits of eating ginger, including better lung health.
Ginger helps to break down mucus, making it easier for your body to expel air. It also helps improve circulation to the lungs and reduces inflammation.
Ginger in teas, topical ointments, and dietary supplements has received accolades for the relief of respiratory ailments, including cough and bronchospasm. As many as 40% of patients with asthma are estimated to use ginger-based therapies to self-treat their asthma symptoms.
Gingerol, a major compound in ginger relaxes airway smooth muscle and potentially serve as a bronchodilator. You can use ginger in many ways. You can chew dried, crystallised ginger, use fresh ginger to make tea or even eat it raw or add it to food.
Ginger has been used in eastern medicine for hundreds of years. Fresh ginger contains both antibacterial and antiviral properties.
Ginger is believed to help prevent viral infections by increasing the body's temperature. Its daily use may just be effective in coronavirus prevention.
Fennel Seeds or Saunf
We all know fennel seeds or saunf to be a common Indian remedy for bad breath because they help neutralise offensive odours and aid digestion.
They are the dried, ripe fruit of the perennial Foeniculum vulgare. This makes them one of the super used everyday immunity booster spices.
Did you know? In more recent history, the Puritans referred to Fennel as the "meeting seed" as it was a usual practice to chew the seeds during meetings.
Chewing fennel seeds increases saliva that washes away bacteria from your mouth. Fennel seeds contain oils have antibacterial properties that help fight bad breath germs.
Fennel seeds contain anethole may also relax muscles in the intestines, which can help relieve constipation. Soothing muscles in the stomach and intestines helps to relieve gassiness that's from constipation or acid reflux.
If you feel a cold coming on, drinking some fennel tea can help your body fight back against the pathogens attacking your immune system. This will boost your immunity and develop a coronavirus prevention mechanism in your body.
To incorporate fennel seeds in your consumption, crush or grind whole fennels seeds just before you add them to your cooking, coffee or tea making it an indispensable immunity booster spice in your kitchen.
Disclaimer: The above advisory does not claim to be the treatment for Coronavirus or COVID 19.
A nurturing and a very simple recipe especially for winters. However, it is recommended that you have this all around the year. This is more than your regular H2O and with Indian immunity boosting spices that are easily available in your pantry.
Immunity Booster Water | Immunity Booster Spices in Water Recipe
Immunity Booster Water | Immunity Booster Spices in Water Recipe - Here is a simple recipe for water brewed with immunity boosting Indian spices. You can brew this in the morning and have a glass. Remaining water should be consumed throughout the day for building your immunity. Consume this water everyday.
Ingredients
2

Litres Water / पानी

From the Tap

1

Pinch

Carom Seeds / अजवाइन

0.5

Teaspoon

Fennel Seeds / सौन्फ

0.5

Teaspoon

Cumin Seeds / जीरा

1

Teaspoon

Coriander Seeds / खड़ा धनिया

1

Teaspoon

Fenugreek Seeds/ मेथी दाना
Instructions
Boil tap water to a roar. पानी को अच्छे से उबाल ले।

Add all the spice seeds/ingredients from the ingredients list. सारी सामग्री उबलते हुए पानी में डाल दें।

Boil for 10 minutes. १० मिनट तक और उबालें।

Drink immunity boosting water (preferably) all through the day. सारा दिन पिएँ।
Notes
Use normal tap water for making this immunity boosting water concoction rather than reverse osmosis (RO) water. RO water usually removes the beneficial nutrients from your normal water as well.
Ensure you use freshly available spices for immunity booster water to maximise its benefits.
STAY CONNECTED
If you like this article, you can let us know in the comments below or on social media using #gosumitup and tag me @gosumitup. I am always happy to read your feedback and if you liked the dish or if you made the dish. :)
Better still, take a picture and post it on Instagram and tag us as #gosumitup
Connect direct – You can also connect with me directly on my Instagram and Facebook or on Pinterest.
And, keep visiting us for more of such awesomeness. Do bookmark gosumitup.com into your web browser now or simply subscribe to our browser notifications.