Health Benefits of Cumin Seeds or Jeera
Uses and benefits of Jeera Seeds or Cumin Seeds
Health benefits of cumin seeds or jeera are several. Cumin or Jeera is amongst the earliest crops cultivated in Asia, Africa, and Europe. The cumin plant or CuminumCyminum belongs to the family of Apiaceae.
Cumin seeds are still used as a traditional medicine to treat liver, digestion, and lung disorders. Cumin seeds are an antiseptic, stimulant, potent carminative with anti-hypertensive agents.
The seeds are rich in oleoresins, essential oils, sesquiterpenes, tannins, etc. Cumin Oil has anti-nociceptive and analgesic properties. They can relieve spasms and pain by working on the Central Nervous System (CNS).
The oil controls blood clotting or platelet aggregation and boosts haemoglobin levels. They have a potent antimicrobial activity which ceases the growth of several bacteria's, fungi, and yeast species.
Culinary Prowess of Cumin Seeds or Jeera
Apart from significant health benefits of cumin seeds, Cumin lends its distinctive flavour to various Indian curries. It is added to rice and lentils as well. Its flavour has been described as earthy, nutty, spicy and warm. Cumin is one of those spices (whole or ground) that's essential for any spice cupboard.
Just a teaspoon adds a hint of smokiness, use more and your dish infused with sweet earthy flavours.
Cumin is a staple ingredient in most curry powders and many spice blends, especially in Indian cuisine. It's used extensively for savoury recipes, like curries, rice, meat, fish, vegetables and pulses.
Indian cuisine is incomplete without the usage of the traditional spices like cumin seeds, turmeric, coriander etc. They form the soul of most of the Indian recipes contributing the unique flavour and aroma to the recipe.
Health Benefits of Cumin Seeds or Jeera | What are the benefits of Jeera?
Some of the health benefits of cumin seeds are traditionally known for, including promoting digestion and reducing food-borne infections. Others include promoting weight loss and improving blood sugar control and cholesterol.
Improves Human Digestive System – Cumin is considered highly effective for indigestion. It increases the activity of digestive enzymes and releases bile from the liver. Bile helps in digesting fats and certain nutrients in the body. It reduces the irritable symptoms of bowel syndrome with its anti-inflammatory properties. It can also prevent gastrointestinal complications in pregnant women.
Boosts Body Immunity – Cumin fights diseases and builds immunity. Jeera/Cumin water is considered to be very good for health.
Helps Diabetics – The hypoglycemic property of cumin makes it a natural cure for diabetes. It helps to regulate the blood sugar levels and hence cumin is good for diabetic patients. In addition to this, cumin seeds also reduce the level of harmful fats or lipids in the body.
Promotes Weight Loss – Obesity is connected to diabetes, cardiovascular diseases, and osteoarthritis. Consuming cumin regularly controls bloating and helps to shed the extra fat. Eating cumin seeds can essentially help you get rid of indigestion. 
Regulates Blood Pressure – Protecting heart and prevention of heart attack is another benefit of cumin seeds. The potassium content in cumin helps in maintaining the electrolyte balance of the body. It also regulates the production of cells and maintains blood pressure, which is one of the prominent causes of heart attacks.
Controls Cholesterol Level – The antioxidant properties of dried cumin seeds are undeniably beneficial to the individuals. They have flavonoids and inhibit lipid peroxidation which causes a dip in oxidized-LDL levels. The active components like Zinc and Manganese activate the antioxidant enzymes in your body. It further protects you from cardiovascular diseases.

Rich in Iron & Calcium Content – With age, our bones turn weak but you can strengthen them with cumin seeds. Cumin contains a high amount of iron & calcium that helps in the formation of strong bones and body. Also, the extracts of cumin increase your bone mineral density hence, to avoid osteoporosis, you must incorporate cumin in your daily routine.
Regulate the menstruation cycle: Cumin seeds are a must for women as they regulate the menstruation cycle. They give relief from the stomach pain and the other symptoms of periods and thereby help women have a hassle-free menstrual cycle.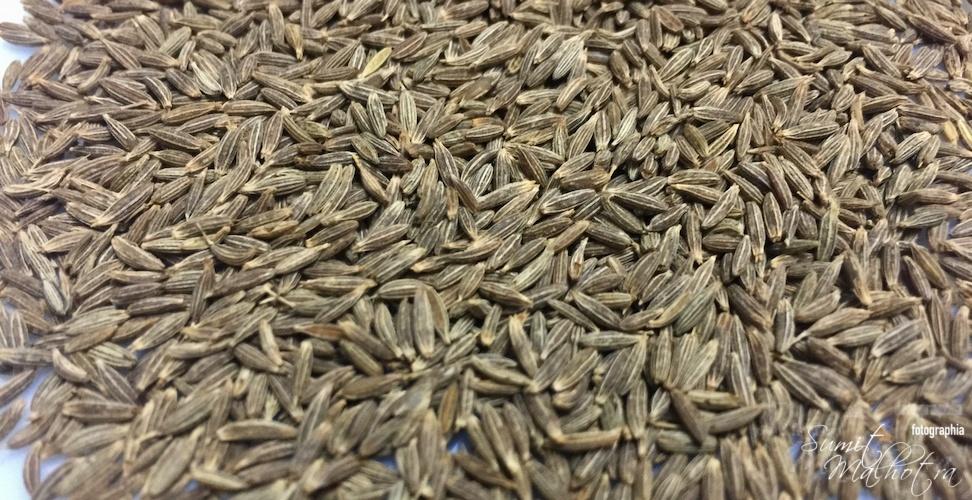 How to Make Jeera Water? Make Water with Cumin Seeds
Jeera Water or Cumin Water has a very cooling effect to the human body and also aids digestion.
Ingredients
1

Teaspoon

Jeera or Cumin

2

Cups

Water
Instructions
Take water in a saucepan, add jeera or cumin seeds to it.

Boil on a medium-low flame until it reduces to half.

Switch off the flame and strain the jeera water.

Discard the cumin seeds and consume the water hot or warm.
Can we drink jeera water daily?
Jeera water may jump-start your metabolism and help balance blood sugar, in addition to boosting your hydration. Anecdotally, people drink jeera water twice per day on an empty stomach for best results.
Is Cumin and Jeera the same thing?
Jeera and Cumin seeds are same, just that Jeera is the Hindi word for Cumin seeds (which is English). Jeera is used in Indian cooking lot as it is very beneficial, It aids digestion and is a very good source of Iron.
What are the side effects of jeera water?
People with diabetes and bleeding disorders should really be careful about the quantity of jeera they consume. Consuming excessive jeera water might lower their blood sugar levels and affect their blood clotting mechanism as well.
For lactating mothers, consuming an excessive amount of jeera may result in lower production of breast milk.
Ayurvedic Health Benefits of Cumin Seeds or Jeera
Cumin is used as an Ayurvedic medicine used for several diseases of the digestive, respiratory, circulatory and reproductive system. In Ayurveda, it is used because of its carminative, digestive stimulant, antacid, astringent, diuretic actions.
It also reduces body heat thereby reducing boils and rashes. Its antibacterial properties are well known to get rid of pimples and other skin disorders. The benefits and remedies of cumin seeds have been used since centuries for its outstanding results.
STAY CONNECTED
If you like this article, you can let us know in the comments below or on social media using #gosumitup and tag me @gosumitup. I am always happy to read your feedback and if you liked the dish or if you made the dish. 🙂
Better still, take a picture and post it on Instagram and tag us as #gosumitup
Connect direct – You can also connect with me directly on my Instagram and Facebook or on Pinterest.
And, keep visiting us for more of such awesomeness. Do bookmark gosumitup.com into your web browser now or simply subscribe to our browser notifications.