How to Make Perfect Classic Scrambled Eggs - Easy, Fluffy & Perfect
Also known as Ande ki Bhurji, Anda Bhurji
Everyone loves Classic Scrambled Eggs. And, when there is so much love, there are as many variants too. And, we shall go to look at them right below.
The key to making perfect scrambled eggs is whisking the eggs thoroughly and vigorously before cooking them. You may even blend them to perfection. Whisking incorporates air, which produces really fluffier scrambled eggs.
A perfect classic scrambled eggs dish makes for a super easy meal with super nutritious protein within a couple of minutes. The trick with classic scrambled eggs is not to overcook them but keep them creamy and soft.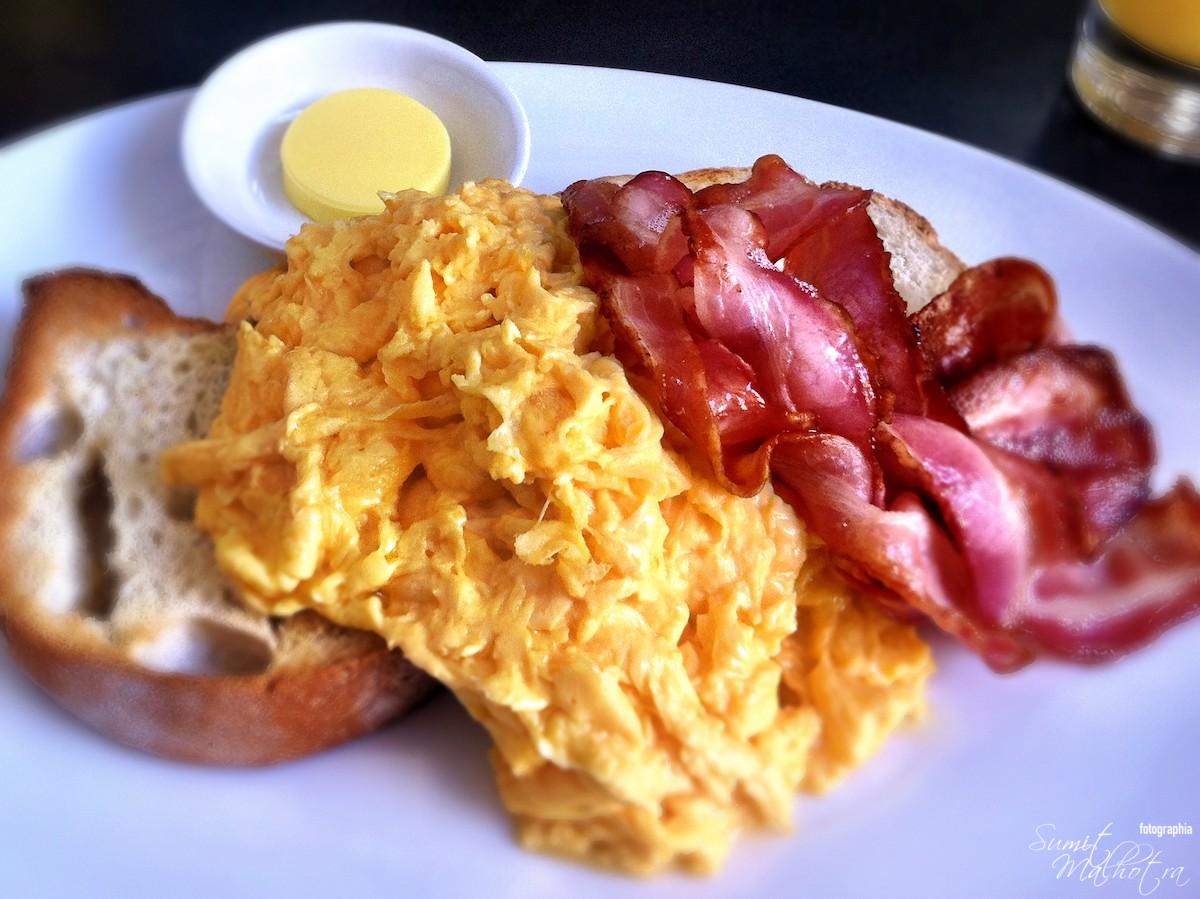 For an easy and perfect classic scrambled egg recipe, all you'll need is four eggs, a little milk or cream, butter and oil and salt and pepper for seasoning.
You'll want to use this classic scrambled eggs recipe over and over again.
Scrambled eggs are a great way of making the most of eggs. These are just perfect for breakfast. Enjoy them, served on top of a buttered toast, with bacon or tuna and a cucumber salad for a posh brunch.
Welcome to Eggsland once again. :)
"Scrambled eggs have been made, and massacred, for as long as people knew about pots and pans, no doubt." – M.F.K. Fisher
This is a tale of a well whisked and simple egg, scrambled over low heat, with just enough patience to make it perfect.
My father had an obsession with classic scrambled eggs. So, as a child, I had them often, but it was less as breakfast dish more as a Sunday midday brunch/lunch and with paratha or a couple of slices of bread.
How to Make Classic Scrambled Eggs Recipe Trick – Works Very Well
To keep your scrambled eggs nice fluffy and moist, the trick is to well whisk them and before adding the eggs, make sure to reduce the heat to medium, or even medium-low. Using too high a heat will quickly dry out your eggs.
Another tip is to turn off the heat before the eggs are all the way cooked. This helps prevent overcooking, which is a common problem with scrambled eggs. You don't want your classic scrambled eggs to be brown on the bottom.
Classic Scrambled Eggs Recipe - Easy, Fluffy & Perfect
Classic Scrambled Eggs Recipe - Easy, Fluffy & Perfect - The Best Scrambled Eggs are fluffy, light, moist and taste amazing. There is a secret to it though, and I've got it. The secret to the perfect scrambled eggs is cooking them low and slow!  
Equipment
Measuring Spoons

https://amzn.to/3kznUG4

Whisk

https://amzn.to/3kznUG4

Frying Pan

https://amzn.to/3ECs1Ig

Spatula

https://amzn.to/3KI92jc
Ingredients
1

Tablespoon

Butter

Salted

4

Number

Large eggs

2

Tablespoons

Milk

Salt and pepper

To taste

Chopped chives

Optional
Instructions
In a medium sized non stick skillet over medium low heat, add the butter. In a small bowl whisk together the eggs and milk.

Once the butter has melted pour the eggs into the pan and let them sit undisturbed until you see a thin layer of the egg cooking around the edge.

Using the rubber spatula start moving the eggs around the pan until they look fluffy and barely set.

They should be slightly runny and soft.

Serve immediately with salt and pepper and chopped chives on top.
Notes
Whisking eggs will whip that air into the eggs to help them be fluffy and soft.
Get good quality eggs for the scrambled eggs recipe, it matters.
Please wait until you cook the scrambled eggs to season them with salt and pepper. Adding it, in the beginning, draws out the moisture in the eggs, making them watery.
Eggs can be effortless to overcook without the fat in the dairy. The milk results in creamy, moist, and softer eggs than if you left it out.
Make sure to remove classic scrambled eggs from the pan when you still think they're a bit too wet. They'll continue to cook once removed.
Serving Suggestions - The Perfect Classic Scrambled Eggs Recipe
Classic scrambled eggs are delicious in a breakfast wrap! Not only does it make for an even heartier meal, but you can also take your wrap to go.
It also makes a great filling for lunch burritos too, especially with some salsa and homemade sour cream on the side.
In a wrap or sandwich in a breakfast croissant sandwich
With a paratha – works for breakfast and lunch
Served with extra sausage or bacon on the side
With really nice and creamy mashed potatoes.
Recipe Notes - Classic Scrambled Eggs Recipe
Whisking eggs thoroughly and vigorously before cooking them incorporates air, which produces fluffier scrambled eggs.
Make it easy on yourself and cook your eggs in a nonstick frying pan.
Use a heat-resistant silicone spatula.
Make sure to reduce the heat to medium, or even medium-low. Using too high of heat will quickly dry out your eggs.
Take your skillet off the gas stove when your breakfast scramble looks formed but not runny.
STAY CONNECTED
If you like this article, you can let us know in the comments below or on social media using #gosumitup and tag me @gosumitup. I am always happy to read your feedback and if you liked the dish or if you made the dish. :)
Better still, take a picture and post it on Instagram and tag us as #gosumitup
Connect direct – You can also connect with me directly on my Instagram and Facebook or on Pinterest.
And, keep visiting us for more of such awesomeness. Do bookmark gosumitup.com into your web browser now or simply subscribe to our browser notifications.