Health Benefits of Nutmeg | Jaiphal ke Fayde
Nutmeg (Myristica fragrans) is also known as Jaiphal, Jatiphala, Jaifal
Nutmeg or Jaiphal (Myristica fragrans) comes from a dark-leaved evergreen tree cultivated for two spices derived from its fruit: nutmeg, from its seed, and mace, from the seed covering. Indonesia, Sri Lanka and India are the main producers of jaiphal and mace.
Jaifal or Jaiphal (Jaifal) contains antibacterial, antiviral and anti-cancer activities. It is used in traditional medicine for treating various disorders. In Ayurveda, it is used to balance Kapha and Vata doshas.
Taste Fact: Nutmeg has a fresh, rich aroma and a woody, bittersweet flavour with hints of clove. It is warm and aromatic with a deep flavour.
What is Nutmeg good for?
Jaifal is found to have several health benefits. It has the ability to relieve pain, soothe indigestion, strengthen the cognitive function and detoxify the body.
It boosts skin health, alleviates oral conditions, reduces insomnia, increases immune system function, and prevents leukaemia, and improves blood circulation.
Can Nutmeg be harmful?
Though, jaiphal or jaifal is unlikely to cause any sort of harm when consumed in small quantities, taking it in high doses may cause adverse side effects. It contains the compounds myristicin and safrole.
When ingested in large amounts, it can cause symptoms like hallucinations and loss of muscle coordination.
Nutmeg or Jaiphal - Frequently Asked Questions
Get to know Nutmeg or Jaiphal
Is nutmeg good for anxiety?
Nutmeg is known to be an aphrodisiac. It stimulates the nerves in the brain. It was commonly used as a brain tonic by the Greek and Romans in ancient times. It is an effective ingredient for treating depression and anxiety as its essential oil tends to ease fatigue and stress.
Can we take nutmeg daily? 
Though it is unlikely to cause harm when consumed in small quantities, taking it in high doses for a long period of time may cause adverse side effects.
Consumption of jaiphal in a dose of 120 mg or more over a period of time daily has been linked to hallucinations and other mental side effects. Jaifal or Jaiphal contains compounds myristicin and safrole.
When ingested in large amounts, these compounds can cause symptoms like hallucinations and loss of muscle coordination.
What is nutmeg used for?
Nutmeg or Jaiphal is a common cooking spice known for its warm flavour and sweet taste.  Popular culinary uses of jaifal include its use in baked goods such as puddings and pies. it is also used for savoury dishes and sauces as well as classic drinks like eggnog.
Is nutmeg safe for cooking?
Small amounts of jaifal can be used safely in cooking. Most recipes only call for roughly 1/4 to 1/2 teaspoon of nutmeg per recipe. These recipes are often split into multiple portions, leaving the actual exposure to nutmeg very insignificant. You can also use a similar amount in your daily coffee.
How is Nutmeg different from Mace?
Nutmeg and Mace are from the same fruit of the nutmeg tree (Myristica frangrans). The nutmeg is the oval-shaped pit, which is the fruit, and mace is the bright red webbing that surrounds the shell of the pit.
The mace is removed, dried and that turns into a reddish colour. The nutmeg can either be dried and left whole and packaged for grating or dried and grated fresh.
Does mace taste like nutmeg?
The taste between nutmeg and mace is slightly different. Mace is more pungent and spicier, which is similar to the combination of cinnamon and black pepper.
On the other hand, nutmeg can be described as less intense with a sweetness similar to cinnamon but more piquant.
Both spices actually include some of the same oils that flavour black pepper and cloves. Even though they have similar uses in recipes they are rarely used together. Jaiphal does have a sweeter more delicate flavour and fragrance than mace or javitri.
Health Benefits of Nutmeg
Jaiphal ke fayde
Health Benefits of Nutmeg in Blood Pressure & Circulation – Nutmeg is rich in minerals like calcium, potassium, manganese, and iron, all of which help in regulating blood pressure and enhance the circulation of blood. These minerals have the effect of reducing stress, and further, relax the blood vessels and aid in the regulation of blood pressure.
Health Benefits of Jaiphal for Countering Depression – A lot of Ayurvedic-based medicines use nutmeg as a part of the medication in treating depression and anxiety. Nutmeg also has sleep-inducing properties.
Health Benefits of Nutmeg for Protecting Your Liver – Nutmeg is rich in myrislignan, which can help treat liver disorders and injuries. Research suggests that the extracts found in nutmeg can help treat hepatitis inflammations. Nutmeg, as mentioned before, has anti-inflammatory properties as well, and can help treat an inflamed liver.
Health Benefits of Jaifal as a powerful antioxidant – Nutmeg contains an abundance of antioxidants, including plant pigments like cyanidins, essential oils, such as phenylpropanoids and terpenes, and phenolic compounds, including protocatechuic, ferulic, and caffeic acids. These neutralize free radicals, preventing cellular damage and keeping your free radical levels in check.
Nutmeg oil has anti-inflammatory properties and that makes it an effective joint and muscle pain reliever.
Relieves Stomach Troubles: In traditional Ayurvedic medicine, nutmeg is used to relieve stomach disorders including gas, abdominal pain, diarrhoea, nausea and vomiting. In fact, some over-the-counter remedies include nutmeg.
Health Benefits of Jaiphal as an Aphrodisiac – Nutmeg is often called an aphrodisiac and is added in small amounts to herbal aphrodisiac potions. The powerful plant compounds of Nutmeg have significant properties of being relaxing and calming.
Health Benefits of Nutmeg as an Antibacterial agent – Nutmeg is often used as a natural remedy for bad breath and mouth sores. According to a PubMed abstract, when researchers isolated the various constituents of nutmeg seeds, they were all found to have good antibacterial properties.
Health Benefits of Jaifal for weight loss – Nutmeg helps in aiding weight loss as well. It can help the body eliminate toxins, and the digestive properties that it has can help in increasing metabolism, thereby helping with weight loss.
May Help Treat Leukemia – A study on the effect of nutmeg extract on Jurkat leukaemia T cell line had exciting results. The extract inhibited Jurkat cell proliferation and caused cell death in concentrations of 50 and 100 ig/ml.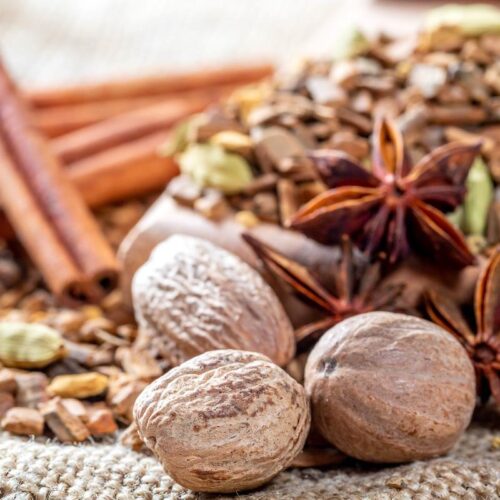 Homemade Nutmeg Powder - Jaiphal Powder
Ground Nutmeg Powder is known as Jaiphal Powder in India. Apart from being an aromatic flavouring for food & drinks, it is also really helpful in healing & combating cough, depression, sexual issues and digestion related problems.
Ingredients
100

gram

Whole Nutmeg

Jaiphal or Jaifal

1

tsp

Brown Sugar

Bhuri Chini
Instructions
Dry roast the whole Nutmeg or Jaiphal/ Jaifal & the cool to room temperature.

Crush them and then grind with sugar into a fine powder.

Store Nutmeg Powder or Jaiphal Powder in a dry airtight jar.
Notes
If stored in a dry place, jaifal powder or nutmeg powder will last you a year.
You can use it for your desserts, in milk or coffee, in biryani and your curries.
FINALLY, TO SUM IT UP
Nutmeg or Jaiphal is a popular spice made from the seeds of Myristica fragrans. Indian cuisines use nutmeg for its aromatic value and unique flavour.
But jaifal is more than just a spice that enhances the taste and smell of food. It has an immense nutritional value & health benefits of jaiphal are immense also.
STAY CONNECTED
If you like this article, you can let us know in the comments below or on social media using #gosumitup and tag me @gosumitup. I am always happy to read your feedback and if you liked the dish or if you made the dish. 🙂
Better still, take a picture and post it on Instagram and tag us as #gosumitup
Connect direct – You can also connect with me directly on my Instagram and Facebook or on Pinterest.
And, keep visiting us for more of such awesomeness. Do bookmark gosumitup.com into your web browser now or simply subscribe to our browser notifications.